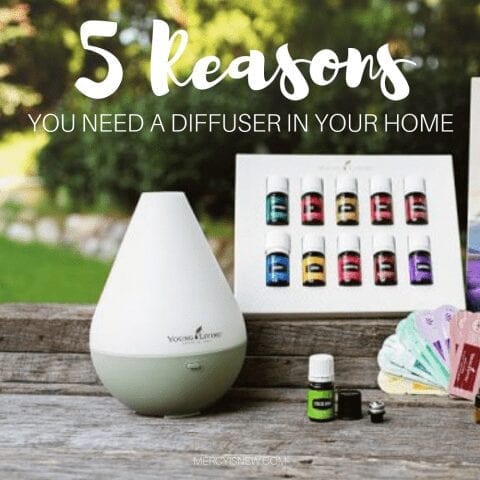 My favorite way to use essential oils is in a diffuser. Or two. Grin.
I started thinking about lots of reasons WHY I love having diffusers in our home and thought I would share some of those favorite reasons with you!
I discussed these 5 reasons AND my favorite current oil combos in the diffuser in this video on Youtube. (Click this link if you're reading this blog post in an email.)
5 Reasons Why We All Need Diffusers
Candles & Air Fresheners are Toxic – I love for my house to smell good. I'm the girl who got a new candle nearly every time I went to store. Those plug ins? Febreeze? Air fresheners? ALL TOXIC. And we light them or plug them in and breathe it in all day long. No wonder we are all sick, right?! You can make your house smell good AND do your body good by using high quality essential oils in your diffuser on a regular basis! I especially like them beside our beds at night so that we reap the benefits of the aromatherapy all night long.
Aromatherapy is real. Yes. Yes, it is. Studies show that by smelling essential oils, they enter into our body systems and begin working within minutes. And can you guess what essential oils help with the most? MOODS. Hmmm. Well now. I know we can all use some mood improvement in our homes. Grin.
Relaxation & Sleep – There are so many oils that support healthy sleep and will help you unwind at night before bed. Many people love to combine Lavender and Cedarwood in their diffusers at night. I mention my personal favorite oil for bedtime in the video!
De-germify – Yes, I think that is a word. But seriously, help support healthy immune systems in your home by using oils like Thieves and Purification in your diffuser! Smells good + keeps us well = win win!
Mental alertness – We all need a little pick me up now and then! Maybe you're driving and you are drowsy, put in a "DIY diffuser" by placing a drop of peppermint on a cotton ball and sticking it in your car vents! Put a diffuser on your work desk with peppermint and citrus in it! It's a great way to wake up in the middle of the day if you're hitting a slump.
Free Diffuser
Did you know that the premium starter kit from Young Living is the only product they sell for roughly 50% off!! And purchasing the kit gets you 24% off of everything else they sell as a wholesale member!
And this kit includes a FREE DIFFUSER! Oh yeah…
Get started on your wellness journey by joining my team and the Oily Sisterhood today!!
Here is a picture of what comes in the starter kit!
You receive: 11 oils, a diffuser, and lots of samples! PLUS entrance into the Oily Sisterhood led by Dr. Edie Wadsworth and all of my precious oily sisters with teaching and support, classes and videos!