We live in a culture of women who have misplaced confidence. We are either plagued with self-doubt on a regular basis or our confidence is placed in all the wrong things. Either end of the spectrum is detrimental to us emotionally and spiritually.
Friends, where is your confidence? Where is your hope? Where do you find your joy and contentment?
God's Word tells us that He created the world by speaking it into being. He called it good. He created us, He calls us good and fearfully and wonderfully made. Do we trust Him and take Him at His Word? Or do we keep trying to find our confidence and our contentment in the things of this world?
Dictionary.com says that confidence is full trust; belief in the powers, trustworthiness, or reliability of a person or thing. Synonyms for confidence are faith, reliance, and dependence. 
So, who or what do you believe in? Who is trustworthy? Who is reliable? Where is your faith and reliance? Who are you dependent upon?
Putting our confidence in ourselves alone is a scary place to be. But, when we confess our trust in God and God alone, our confidence will never be misplaced. He will never let us down. Our confidence and our hope is secure because He is faithful. 
Because of our loving heavenly Father we can have confidence in who He made us to be. We can know that we are His. We can know that He lovingly created us for a greater purpose than ourselves and for His glory. That knowledge should give us true confidence.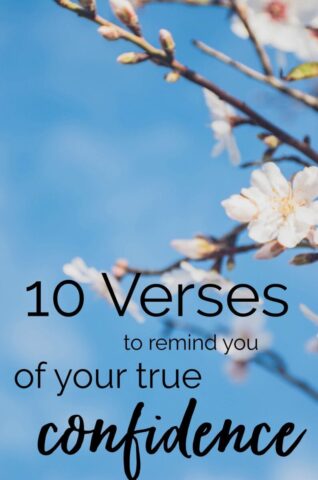 10 Verses to Remind You of Your True Confidence
"For you have been my hope, Sovereign Lord, my confidence since my youth." Psalm 71:5. Lord, you are my hope. You are my confidence. Help me not to place my hope in my circumstances, my material belongings or my standing here on earth. Remind me of my true and only real hope.
"It is better to trust in the Lord Than to put confidence in man." Psalm 118:8. God, You tell us that it is better to trust You than to place our confidence in anyone else. We have found this to be true, yet sometimes, we start to hope in others. May we be reminded daily of the unfailing, never-let-us-down kind of love You offer us.
"For the Lord will be your confidence, And will keep your foot from being caught." Proverbs 3:26. You are my confidence, Lord, you will keep me from slipping. You will uphold me. You are my security.
"In the fear of the Lord there is strong confidence, And His children will have a place of refuge." Proverbs 14:26. God, in You I have strong confidence. I have a place of refuge. The world will not offer me lasting hope or refuge. Only in You can I be truly content and confident.
"The fruit of that righteousness will be peace; its effect will be quietness and confidence forever." Isaiah 32:17. God, You have given me the righteousness of Jesus and the fruit of that righteousness is peace., quietness and confidence. I don't have to earn it, I don't have to work for it, it is mine through Christ.
"But blessed is the one who trusts in the Lord, whose confidence is in him." Jeremiah 17:7. Lord, You say I am blessed when I trust You, when my confidence is in You. I choose to believe You. I choose to live fully in the purpose and calling You have placed on my life…that You created me for a greater purpose than myself and for Your glory.
"Such confidence we have through Christ before God.  Not that we are competent in ourselves to claim anything for ourselves, but our competence comes from God." 2 Corinthians 3:3-5. God, THIS is the confidence I have in You: I am not competent on my own, but in You, I have everything. 
"In him and through faith in him we may approach God with freedom and confidence." Ephesians 3:12. Because of Jesus, I can approach You, God, with confidence and freedom. Grow my trust in You, God. Increase my faith.
"Now faith is confidence in what we hope for and assurance about what we do not see." Hebrews 11:1. Grant me this faith, oh God. May I be confident and assured of what I do not see because the unseen is the eternal, it is of You, it is my forever, lasting and true hope.
"So we say with confidence, "The Lord is my helper; I will not be afraid. What can mere mortals do to me?" Hebrews 13:6. You are my helper, God, I will not be afraid. What can mere man do to me? I hope in You and You alone!
You Can Do This
"It's time to agree with God about who He says you are." Tricia Lott Williford from her new book You Can Do This.
If you struggle to take hold of the confidence we have through Christ, I encourage you to grab this brand new book that releases this month!
"Our culture as a whole, and often the Christian culture in particular, discourages confidence in women. Tricia Lott Williford explores how confidence and self-awareness can be a path toward stronger and richer faith. She offers stories and strategies to inspire and lead women to develop the confidence to stand firm in the face of the blows, losses, and disappointments in life.
Readers of this book will think, laugh, and gain confidence to do what is set before them. They will feel hopeful, courageous, strengthened, encouraged, present, and confident. And finally, readers will be equipped to implement simple strategies to inspire contagious confidence in themselves and others." description from Amazon