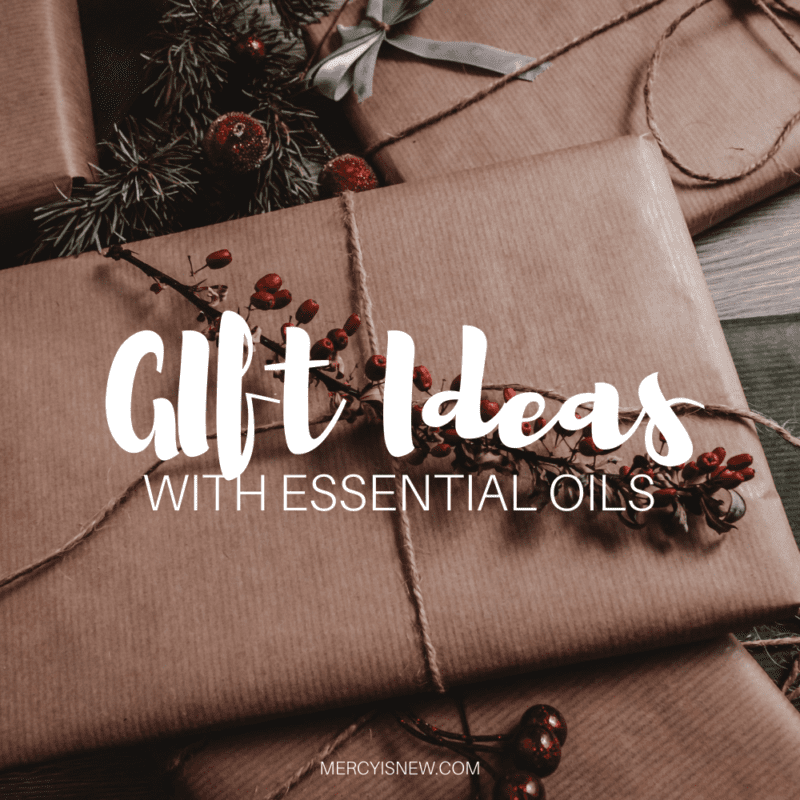 It is never too early to begin thinking about Christmas gifts. This year let's ditch the toxins and give gifts that will be GOOD for the recipients, both in body and spirit.
Consider giving gifts that will bless AND support the recipient's well being by giving gifts that use essential oils!
If you'd like more info on essential oils or are ready to take the PLUNGE, head over to my essential oils page and click "become a wholesale member." You will gain so much more than a box of oils. 😉 You will get an entire support system of women as well as regular teaching and education on how to use these amazing gifts from God!
Facebook Live Video about these Gift Ideas
If you're reading this post in an email, click here to watch the video!
30+ Gift Ideas with Essential Oils
Bath Salt Ornaments – add epsom salt and 3-4 drops of essential oils to the clear ball ornament
Calm & Bright Stress Blend – Lavender + Frankincense + Carrier Oil in roller top bottle (or if you want to go beyond the Starter Kit, I recommend Joy oil or Peace & Calming)
Round Wooden Ornaments – pair ornament with an oil of your choice for a Christmas time diffuser to hang on the tree or on a door knob
Peppermint Brownies – Gift a brownie mix, a wooden spoon and a bottle of peppermint. Or add a mixing bowl as a wedding gift! Follow directions for brownie mix and add 3-4 drops peppermint oil.
Cute Kitchen Towel paired with a spray bottle of Thieves Household Cleaner (or a homemade crocheted wash cloth)
Pretty Pillowcase paired with Linen Spray or Lavender (purchase empty glass spray bottle, fill with water and add 10-12 drops your favorite essential oil)
Stuffed Animal + Lavender for a child's gift, instruct parent to add a few drops lavender to stuffed animal before bed each evening
Coffee Mug + Thieves Oil + Hot Tea Bags
Coffee Mug + Peppermint + Hot Cocoa Mix or Favorite Coffee
Diffuser + Thieves Oil for the teachers in your life!
Pair a favorite book with an oil like Gratitude or Peace & Calming
Super Hero Cape + Valor Oil for a child
Glass/Stainless Water Bottle with Lemon or Grapefruit Oil
Boo-Boo Cream – Mix Coconut Oil in a small jelly jar with 5 drops each Lavender and Frankincense
Chew Toys and Purification for the pet lovers in your life!
Soup Mix + a Vitality Oil (Rosemary, Basil, Thyme, Lemongrass)
Sugar Scrub using Brown Sugar + Coconut Oil + Your Favorite Essential Oil
Salt Scrub using Epsom Salt + Your Favorite Essential Oils
Pain Rub – Copaiba + Coconut Oil (or Pan Away)
Sports Rub – Pan Away + Coconut Oil
Chest Rub – R.C. + Coconut Oil
Homemade Face Serum – Lavender + Frankincense + V-6 Carrier Oil (Young Living's carrier oil)
Room Spray – Purification + Water in a small glass spray bottle
Wool Dryer Balls + Purification (or another favorite oil, these dryer balls can replace your toxic fabric softener or dryer sheets)
Homemade Rice Pillow + Lavender (heat rice pack in microwave for a warm compress)
Leather Bracelet + Your Favorite Oil (I personally would choose Valor or Peace & Calming to gift someone!)
Diffuser Bracelet or Necklace + Favorite Oil
Essential Oil Scented Play Dough (lots of recipes on pinterest!)
Homemade Salsa (using Lime Vitality Oil)
Leather Earrings + Favorite Oil
Spa Kit – homemade bath bombs + bath pillow (or just gift a bottle of lavender and recipient can use a few drops in the bath)
Young Living's lip balm for stocking stuffers (it's my favorite!)
Young Living's Stress Away Roller Top Bottle – this is packaged so beautifully and would make a great gift for an essential oil skeptic as well!

Premium Starter Kit
You can get most of these gifts created by using the oils in the starter kit! So that is 20-30 gifts for $160 + tax + shipping! Woo-hoo!!
Click here to join my team & get started with essential oils today! You will be added to our Facebook groups where you can start learning right away!
To learn more about essential oils go here!
AND, for the REST OF OCTOBER 2017, I am offering a $25 Amazon Gift Card if you choose to join my team by purchasing a Premium Starter kit as shown below!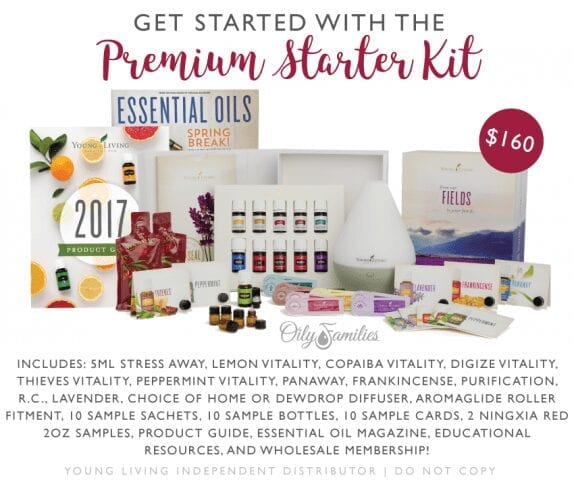 Printable Gift Idea List
If you are a paper list kind of girl, click on this link to download your own PDF file and print!