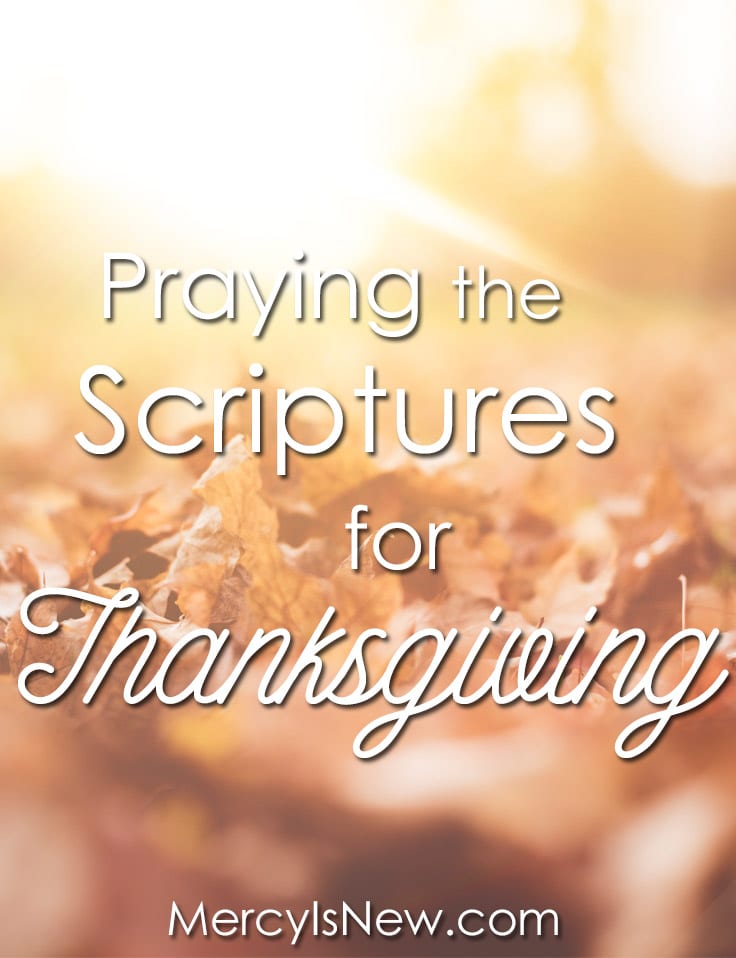 Grateful people are happy people.
Do you believe it? Do you believe what God's Word tells us in Philippians 4:4-6?
When we bring everything to Him in prayer, with thanksgiving, He will fill us with His unimaginable peace?
Prayer + thanksgiving = peace
That is what I want for my own life. That is what I want for you. More importantly, I believe that is what God wants for each of us. He wants us to bring our burdens to Him. He wants us to trust Him in our darkest moments.
What is Praying the Scriptures?
Praying the Scriptures is taking the very words of God and praying them right back to Him. Speaking and whispering the very Word of God.  I want you to lean in close and let me tell you something very important. I do not have special knowledge about praying the Scriptures that no one else can gain. I am not an expert on praying the Scriptures. 
Praying the Scriptures may be reading a Psalm outloud as a prayer. It may be taking one phrase from a verse and repeating it as a prayer to God throughout the day. Praying the Scriptures is taking the Word of God and making it your prayer. You can find more posts on praying God's Word here. 
Join me in November
Beginning November 1st I am going to read, pray, write and meditate upon 1 verse pertaining to having a GRATEFUL heart! Join me on Instagram with the hashtag #PrayingTheScriptures to follow along with my own journey of gratitude and prayer! (When you get on Instagram, search the hashtag or click on 1 of my #PrayingTheScriptures hashtags and be prepared to be ENCOURAGED. Seeing so many women in God's Word is a BEAUTIFUL thing to behold!! We can also connect on this journey when you use the hashtag!) 
I'm also going to continue with my gratitude journal. I encourage you to grab a blank notebook and get started TODAY. Having a heart of gratitude can truly change your life. If you don't believe me, read the book One Thousand Gifts. Ask God to change your heart…He will do it.
So print off your verses, grab a journal to write down the Scriptures and name your blessings and let's get ready to see God move!!
(Note: these are the same verses I shared a few years ago, just with an updated look. It never hurts to go over verses you've already read and prayed through before!)
Free Printable: Verses of Thanksgiving
Click below to print your free PDF of the verses!
Praying Verses of Thanksgiving-2