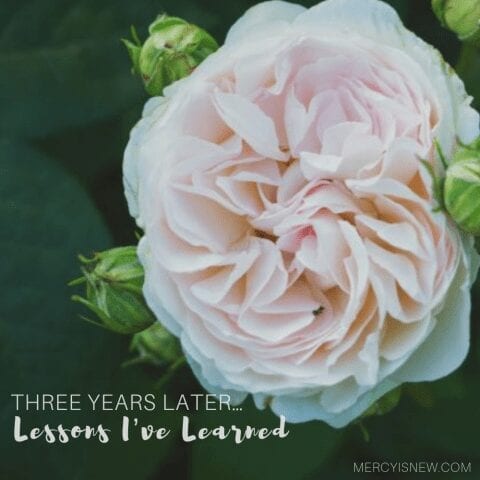 Three years ago in October I began the difficult process of weaning off of Effexor. My path has been topsy turvy to say the least. But God is SO FAITHFUL. He has and continues to teach me so much. His ways are not my ways. He is faithful, friends.
I want to share with you some of the lessons I learned on the other side of the valley. As I have done battle with the enemy and continue to battle for joy, God continues to show up and give me more of Himself.
If you're reading this in an email, click here to watch my video on the lessons God is teaching me. 
Lessons I Am Learning
We are capable of choosing joy.  I used to believe that I might be incapable of joy. That God had made me with a negative disposition. That I was prone to it and there was no changing it. But God's Word says we can be TRANSFORMED by the RENEWING of our minds. God's Word tells us that He is MAKING US NEW. (See Romans 12:1-2, 2 Corinthians 5:17)
I now know that finding and choosing and DOING BATTLE for joy is a daily, intentional habit. I have to intentionally look for the good. I have to choose to lead a Philippians 4:8 life.
Gratitude can change a life. We can be complainers or we can be grateful. We can look at the world and see all the problems or we can look at the world and see the chance to be LIGHT in the darkness.
Look around today and ask God to open your eyes for you. Ask Him to help you see the blessing amid the suffering. Choosing joy and choosing gratitude doesn't take the pain or hard thing away. It doesn't change the fact that we live in a broken, fallen world. It changes US.
Baby steps can make huge changes. We tend to be all or nothing people. We think if we can't get it all right we are failures. The enemy wants us to think we are failures and can't get it right. So we don't even try.
But when we take small steps of obedience, those steps can lead to life changes. What is one area of your life you want to work on? Make a list of small, actionable steps you can take and start today! Start a gratitude journal, drink more water, read 1 Psalm per day, get out and walk around the block…all of those things will propel you to make the bigger changes you want in your life.
Stress management is more important than eliminating all the stress in your life. Our world is stressful. Yes, we can learn to say no. Yes, we need to say no to people pleasing. Yes, having less on our calendars can lead to a more meaningful life.
However, even good things in our lives can bring stress with them. So, instead of continuing to try and eliminate stress, find ways to manage it in HEALTHY ways that will benefit your overall wellness. Stress impacts us in so many ways. If we can find healthy ways to help us thrive in this life, the stress won't overwhelm us!
The 2 things in my life that are making the biggest impact on my stress management and anxiety levels are 1) strength training and 2) daily, consistent use of essential oils. Learn more about oils on my Love, Mercy, and Oils page. 
Jesus came to give us LIFE and LIFE more ABUNDANTLY. Sometimes the bitterness in our souls leaves us with closed, clenched fists. We have to release the bitterness and unforgiveness in our hearts to be open and receptive to the work of the Holy Spirit. With open hands we can surrender to the work of the Lord and receive His gifts.
Isaiah 61:1-3 tells us why Jesus came…and sweet friends, if you have the Spirit of the Living God in you, you too are here to proclaim the GOOD NEWS, to be a vessel of HEALING for the brokenhearted, to proclaim FREEDOM from captivity (just like we've been given!) to COMFORT those who mourn, to share with the world that God brings BEAUTY from ASHES. The world needs your story. The world needs your light. 
The Spirit of the Sovereign Lord is on me,
because the Lord has anointed me
to proclaim good news to the poor.
He has sent me to bind up the brokenhearted,
to proclaim freedom for the captives
and release from darkness for the prisoners,
to proclaim the year of the Lord's favor
and the day of vengeance of our God,
to comfort all who mourn,
and provide for those who grieve in Zion—
to bestow on them a crown of beauty
instead of ashes,
the oil of joy
instead of mourning,
and a garment of praise
instead of a spirit of despair.
They will be called oaks of righteousness,
a planting of the Lord
for the display of his splendor.
3 Years Off of Anti-Depressants
I would love for you to read an update now that I have been off all of my anti-depressants for 3 years and am thriving. God has been so good to me. My mindset has changed. My health has changed. We are never truly hopeless if we have Christ. We have the power of the Holy Spirit living within us giving us the power to make the steps necessary to BE TRANSFORMED.
My Journey Off of Anti-Depressants
My wellness journey & 51 pound weight loss!