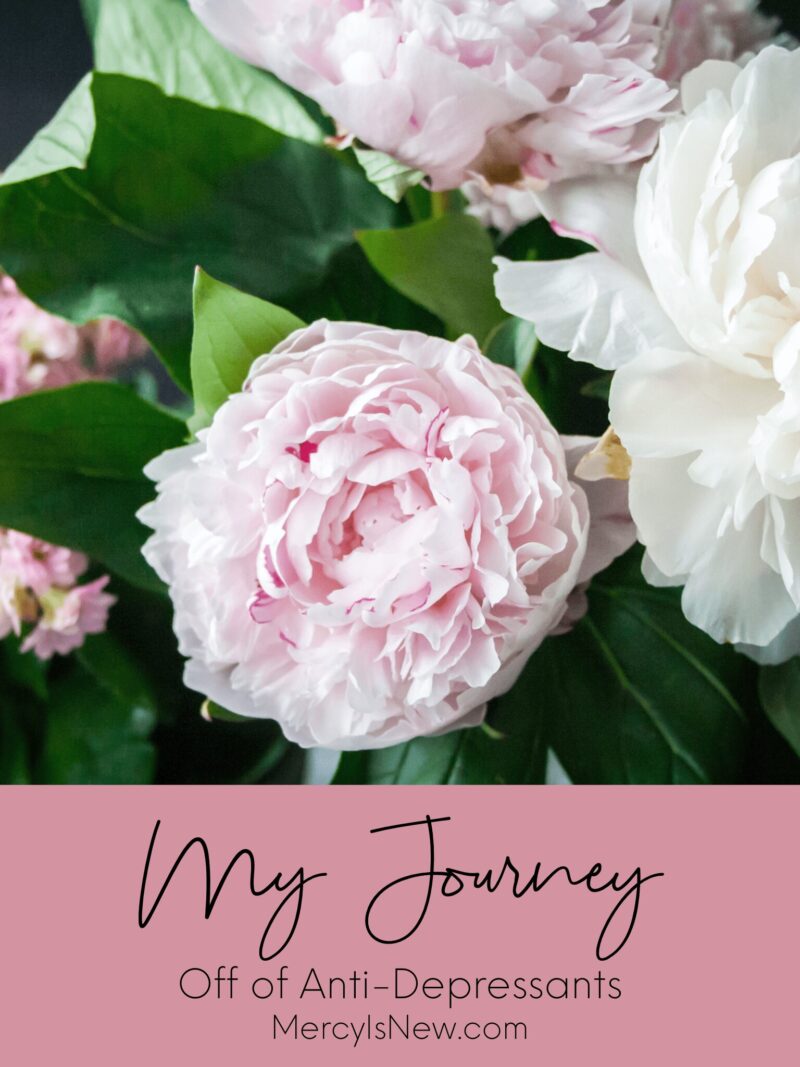 **I am not a medical professional nor am I giving medical advice. I am only sharing my personal story and the things that have helped me. Please always, always consult with your medical doctor before trying to wean off of any type of medication.
Three babies in three years proved to be a lot for my body. My physical, emotional and spiritual health all went a little haywire. What started as possible post-partum depression spiraled out of control when I didn't know what was wrong or deal with it for over a year. Eventually, I would visit my doctor who recommended counseling and an introduction to a psychiatrist, all three of which I continued seeing over the course of the next few years.
I was on anti-depressants, anti-anxiety meds, and prescription sleep meds for over 7 years. You can read more about my journey through that season of my life here.   My journey on AND off them was one of the hardest things I've faced. I can now say, several years later, that it was WORTH the months of withdrawal symptoms. I feel better TODAY than I ever did ON all the meds. I often say that I feel like anti-depressants, while they helped at first, stole my personality and several years of my life. I wasn't super low, which was great, but I also didn't feel excitement or happiness or cry much when I should have cried. God made us with emotions and I don't think He intended for them to be stifled for years on end. In addition to not experiencing healthy emotions, I also gained 35 pounds, became pre-diabetic, had no energy to live out my calling as a wife & mom and just didn't have joy.
Everything that was supposed to be helping me feel better was in fact making me feel worse. 
I very, very slowly came off my meds, taking months of smaller amounts each day along with the help and advice of my doctor. The withdrawal symptoms I experienced were horrendous. Since the time I came off of my meds I have found essential oils and began using them to support my emotional well being. However, when I was weaning off of my meds I did NOT have essential oils yet. I deeply wish I would have had them years ago  after I had my babies to help me on this journey!
I am going to share with you the things I have done as far as supplements, lifestyle and essential oils in the last 2 years to regain my health and my joy. My hope and prayer is that something you read will encourage you and bless you on this journey.
I also want to mention that there was not only ONE thing that helped me on this journey. I truly believe it was the combination of things I am listing below that helped me to achieve emotional wellness, weight loss (60 pounds,) have more energy and get good sleep. If you want to read more about my weight loss journey you can click here! 
One last thing before I share the tools I'm using…my journey won't be your journey. Your journey and your story are just that: yours. I know many of you on this journey are struggling…please know that I am praying for you. But please don't read anything in this post with condemnation or guilt for being in a different place. Trust that God has a good plan for your life and that may look different than mine!
The Essential Oils I Use
Note: If you are not yet on an essential oil team I would love to walk with you as you start your journey! You won't be left alone to figure it all out!  When you join our team (or I like to call it an oily family) you will be added to our private member-only group called Hello Healthy where you will find support, encouragement & education on essential oils. You will also get entrance to the Oily Sisterhood led by Dr. Edie Wadsworth who is my dear friend and an amazing teacher that we can all learn from. You can find more information on this page! 
Frankincense – if you could only use one oil on your journey to emotional wellness I would suggest this one. I use frankincense daily in multiple ways. I put a drop in my face lotion each morning and sometimes again at night; frankincense is so good for your skin! I put a drop (of frankincense vitality) on my thumb and press it to the roof of my mouth as needed for stress and overwhelmed feelings. Ingesting frankincense vitality (this line of oils was created just for ingesting) is going to be the best way to get it in your system quickly. If you are really having a hard time, diffuse frankincense at night beside your bed. (I only recommend ingesting oils that you know the source of. I know and trust Young Living oils and those are the oils I am talking about in this post. Most cheap oils from the grocery store are gong to be adulterated so please be cautious!)
Orange & Bergamot – all citrus oils are REALLY good for mood. I put them in my diffuser daily. Orange and bergamot happen to be my favorites, but you may enjoy other citrus oils and they will be just as helpful.
Progessence Plus – this serum oil blend should be on every woman's nightstand! So good for our female wellness & helping to balance our hormones in so many ways! 
Valor – I always tell people to find your FAVORITE SMELLING OIL and USE IT. Use it every few minutes on the bad days. SMELL IT. Rub it on your body. Carry it with you. Take deep breaths with it. For me, this would be valor. When I bought my kit of oils Valor wasn't in there, so it wasn't my first oily love, but it DOES come in the kit now, which I am super thankful for! It is very calming, grounding and I just use throughout the day everyday.
Joy – many, many people I know have helped their moods significantly by using the Joy oil blend. I did not use this blend right away but I want to mention it because it is a very powerful blend! It is one you should consider trying. If you don't love the strong smell, I suggest adding orange to make it a little sweeter.
All the oils – Any and all oils MULTIPLE times a day! I truly believe that all high quality essential oils help support healthy emotions. If you research how our sense of smell works in that it goes straight to the part of our brain where our limbic system, amygdala and the seat of our emotions are located, it begins to make sense that essential oils work so well.
**I would love to help you get started with essential oils and help take the overwhelm out of trying something new. I will also gift you with a $25 Amazon Gift Card if you decide to try a starter kit and join my oily family, which just means we help you and support you as much as possibly in our member-only groups! No further commitment. You can shop through my referral link here! 
The Supplements I Use
Ningxia – Ningxia is good for so many things, but for me in particular it gives me energy and also helps with stress management feelings of overwhelm. Ningxia is a powerful super fruit juice supplement with a lot of antioxidants, more than we can get in our daily diet. Ningxia is really excellent for entire body health and wellness! 
Immupro – I take this at night before bed and for the first time in 15 years I am waking up rested and ready to go for the day! This supplement also has the wolf berry in it as well as melatonin. It helps me fall asleep and then get better quality sleep.
Life 9 – this is Young Living's probiotic. Being on a good quality pro-biotic is much needed by all of us. So many of our health concerns start in the gut. Even emotional issues. So healing our guts and cleaning up our diet can have a huge impact on our emotions!
Lifestyle Changes I Have Made
If you are truly ready for change and willing to start the work, I highly recommend you read this book, A Mind of Your Own. It is VERY eye opening and will shed light on the multitude of things in our lives that impact our mental health! These that I name below are a few…
Diet – Eliminating grains, sugars and processed foods has been huge for me. When I eat a big plate of pancakes or waffles or biscuits, etc, I can tell the next day I feel poorly. And it isn't really intolerable at that point, but if I keep eating that way every single day, I will be feeling very irritable, moody, bloated and tired all the time. This leads to a bad spiral for me. I eat meat, fruits, veggies, nuts, cheese, lots of smoothies and also Balance Complete shakes from Young Living with Coconut Milk. Food is medicine and I have learned that HUGE lesson in the last year. (I started off with Whole 30 but don't follow it 100%.) 
Exercise – so many studies show that regular exercise is more powerful than anti-depressants. I will add that when I added in strength training, it was even more beneficial for my mental health. I handle stress SO much better when I'm exercising regularly. I typically only exercise 2-3 times a week too! I will walk/jog intervals for 30 minutes and then do hand weights and machines for 30-40 minutes each time.
Sleep – not sleeping well can impact so many things. All of these areas of our lives (hormones, sleep, diet, exercise, emotions) they ALL work together. If you aren't sleeping well, you need to work on fixing that pretty quickly on this journey. For me, going OFF of prescription sleep meds and getting my life HEALTHY has been the BIGGEST help for my sleep. I think because I exercise and have energy to actually live a full life I am probably more tired at night. I'm not eating so many foods that are bad for me and would keep me awake. My hormones are more balanced than they used to be. And I use Immupro from Young Living to help me fall asleep. Some people that don't have as drastic of sleep issues as I've had can use oils (lavender, cedarwood, frankincense) for sleep help, but that wasn't enough for me when I started this journey.
Mindset & God
'
s Word
I wanted to end with this because I saved the best for last. Were it not for the grace of God, I would be right back where I was 11 years ago. But I also want you to know that I fully believe that the power of the Holy Spirit living in me has been transforming me from the inside out…I was willing and I was ready.
God's Word tells us that He will transform us by the renewing of our mind. He tells us we are new creations. He has new mercies for us every morning. He has not given up on you, so why do you give up on yourself?
Part of this whole transformation process was the fact that I had to CHOOSE to BELIEVE that GOD IS ABLE. I had to BELIEVE God and His promises. I had to CHOOSE to change the negative thought train that had been happening in my brain for all of my life up until 2017.
If you struggle with not being able to get the negative thoughts out of your head, I encourage you to begin reading, studying, meditating on the Word of God. Memorize Philippians 4:8. ASK GOD to help you BELIEVE what HE says about you! Focus on what is TRUE, lovely, noble and right.
You are loved.
You are chosen.
You are a new creation in Christ.
Free Ebook
When you subscribe to my blog by email you will receive a few freebies! The newest freebie is this ebook full of resources for renewing your mind with oils + Scripture. You can find my favorite emotional oils, my favorite Scriptures to meditate on and a few favorite books that have helped me on my journey!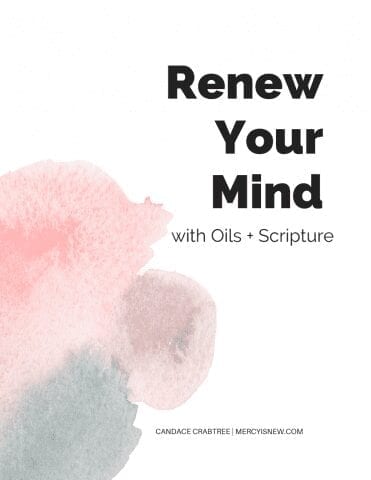 When you subscribe
More Resources