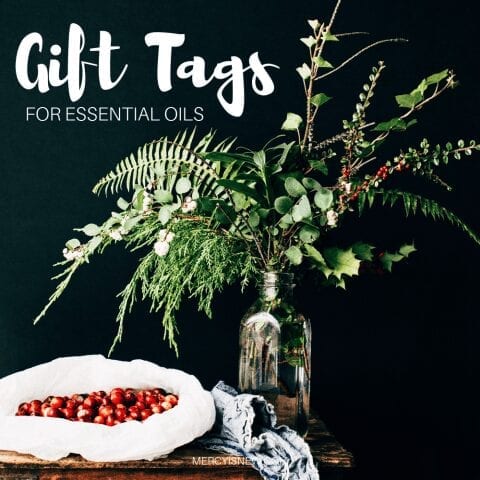 Did you know that the average person encounters 300 toxins each and every day. And most of them are in our own homes! Let's not increase these numbers for our loved ones by giving them gifts full of the bad stuff! Let's give our loved ones non-toxic gifts & useful this year! There are so many simple ways to bless others by using essential oils in our gifts!
I  created these gift tags for a few Make & Take classes that my group did! So many people were asking for more of these gift tags that I    decided to make them printable!
I hope these will be helpful for you!

Christmas Gift Ideas Using Essential Oils
Here is a video where I talked about lots of ideas for using oils in your gifts!
Recipes for Gifts Listed
All is Calm Bath Salts
Calm & Bright Stress Roller
Joy to the World Room Spray
Silent Night Linen Spray
Free Printable Gift Tags
Click on link or graphic to download your free PDF and print as many copies as you like!
Printable Gift Tags for Essential Oil Gifts PDF
20+ Gift Ideas from the Starter Kit
For less than $200 you can make ALL of these gifts! (You will need to purchase little things to go WITH the oils, but the initial investment of 11 oils and the diffuser to make all these gifts with will be $160+tax+shipping. So you really can make lots of gifts for around $200!) 
Click here to print this list of gifts that can be made with essential oils.
Getting Started with Essential Oils
This month I    am offering my Advent Devotional, Jesus, Light of the World: Praying the Scriptures through Advent for FREE if you join my team! A PAPER COPY to those within the U.S. ALSO I'm sending you a Starbucks gift card to go along with your devotional!
To get started with Young Living you need a wholesale membership, similar to a Sam's Club or Costco membership. You purchase the premium starter kit and receive 11 oils, a diffuser, lots of samples and a wholesale MEMBERSHIP which then saves you 24% off all items in the future.
Click here to read more about essential oils and get started today as a wholesale member! 
Here is a picture of the premium starter kit and all it contains: