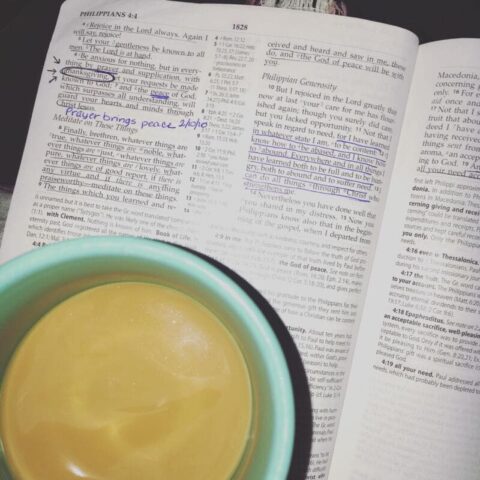 "Finally, brothers and sisters, whatever is true, whatever is noble, whatever is right, whatever is pure, whatever is lovely, whatever is admirable—if anything is excellent or praiseworthy—think about such things… And the God of peace will be with you." Philippians 4:8-9
Think about such things.
This passage is so powerful. If we lived it out our lives would truly be transformed. God's Word says that we can be TRANSFORMED by the renewing of our minds. (Rom. 12) and THIS passage tells us how to do it.
Mindset matters.
And God's Word confirms that what we think about is very powerful. Try reading and meditating on Philippians 4:4-8 for even 68 seconds and see if you can re-focus your mind. Get the negative broken records & lies of the enemy out of your head by REPLACING them with truth. You can do it!  But to replace the lies with truth you have to be FILLING YOUR MIND with truth!!
Think about such things…whatever things are true…and the God of PEACE will be with you.
Philippians 4:8 Printable
We need reminders. We need to write the Word. Pray the Word. Hang the Word around our homes. Carry index cards in our hands. Turn up the praise music. Speak the Word aloud.
Whatever is true printable PDF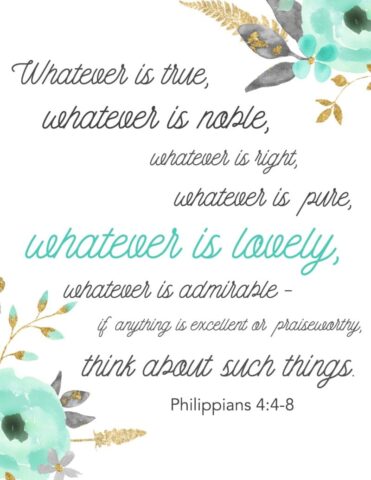 Encouragement to Think About Such Things