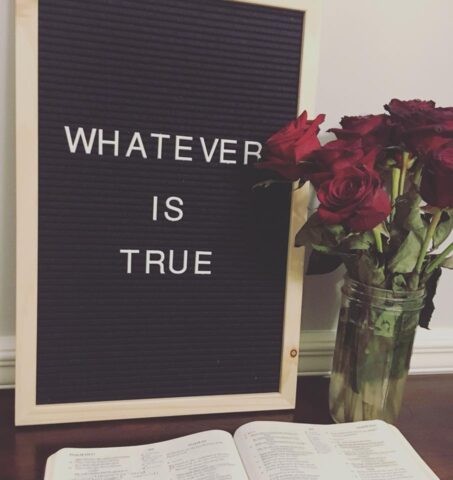 You have a choice today. A million of them.
You can listen to the lies of the enemy that tell you you're no good, you're a failure, you're stuck where you're at, no one could love you.
Or you can listen to the voice of Truth.
He is rejoicing over you with singing, He calls you chosen, He redeems you, He brings beauty from ashes, He is a father to the fatherless and a strong tower in times of trouble. He is your shield and hope and joy.
Which will you choose?
Let's choose WHATEVER IS TRUE together.
"Summing it all up, friends, I'd say you'll do best by filling your minds and meditating on things true, noble, reputable, authentic, compelling, gracious—the best, not the worst; the beautiful, not the ugly; things to praise, not things to curse. Put into practice what you learned from me, what you heard and saw and realized. Do that, and God, who makes everything work together, will work you into his most excellent harmonies." Philippians 4:8-9, The Message