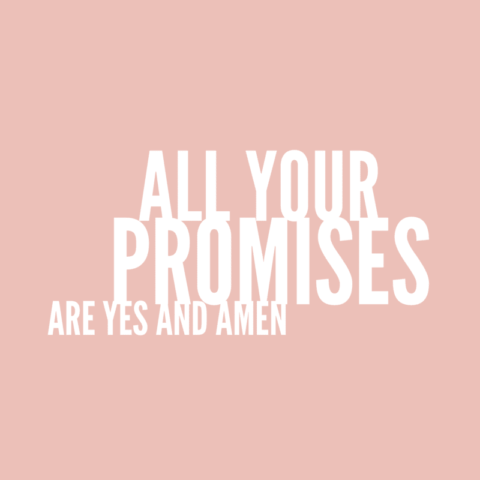 Have you ever wondered if a promise was really for you? The one I've struggled with off and on for most of my entire adult life is believing that in even MY weakness HE IS STRONG. 
Maybe you read the verses/posts I share everyday and think oh how strong I must be. You know I post those for myself, right?  I only share online from the overflow of what God is doing in my own heart. And y'all. My flesh is so, so weak. I have languished and grieved over my weakness to the point of making myself sick. Too much self reflection does that. Why can't I get over this? Why do I struggle with this? Why am I so sensitive? Why do I let this person bother me? Why can't I just have confidence to do this thing? 

In my weakness He is strong. His grace is sufficient. He makes beauty from ashes…even the ashes of insecurity and weakness and every yucky, broken part of me that I hate to even admit to you. 

But when I spend more time looking at my mistakes than I do HIS GRACE, I'm missing out. The grace is there and it is MORE than sufficient but I have to choose it. I have to choose to believe God and what He says about me. I have to choose to believe and meditate upon the Truth more than I fixate on my weaknesses. I have to claim those promises as mine. Because they are. 

Father of kindness
You have poured out of grace
You brought me out of darkness
You have filled me with peace
Giver of mercy
You're my help in time of need
Lord I can't help but sing
Faithful you are
Faithful forever you will be
Faithful you are
All your promises are yes and Amen
All your promises are yes and Amen
(lyrics: Tony Brown, Chris McClarney, Nate Moore )
Listen to this song and be encouraged today!