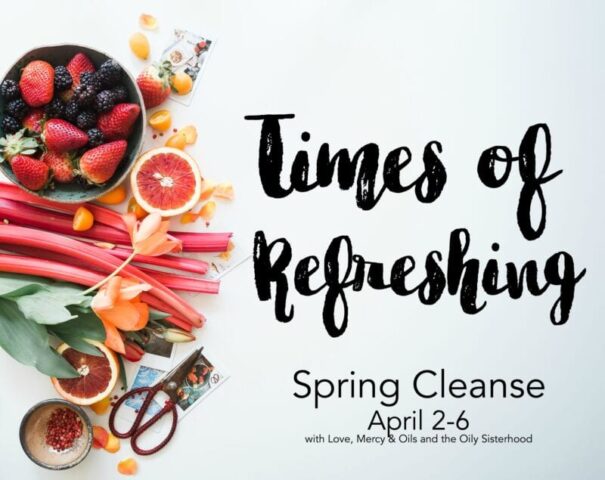 "Repent therefore, and turn back, that your sins may be blotted out, that times of refreshing may come from the presence of the Lord, and that he may send the Christ appointed for you, Jesus…" Acts 3:19-20
Lord, give us eyes to see the feast before us—a feast we often miss by being too busy to hear your Word, too distracted and stressed to sit at your feet.
"Create in me a pure heart, O God, and renew a steadfast spirit within me. Do not cast me from your presence or take your Holy Spirit from me. Restore to me the joy of your salvation and grant me a willing spirit, to sustain me." Psalm 51:10-12
We all need times of refreshing. For our bodies, our hearts, and our minds…
The world we live in today doesn't leave us much time for renewal, cleansing, and sitting at the feet of Jesus. Our lives are chaotic to say the least. We have work obligations, our kids need to be 7 places at once, we're coming and going and our calendars are full.
We must make the time to feast on Jesus.
What if we spent 5 days together fasting yet feasting?
What if we denied our physical bodies of our normal diets and instead feasted on what truly fills us up? Jesus. Only Jesus.
What if we spent 5 days together feasting on the Word made flesh that our own flesh might die?
Spring 5-Day Cleanse
Join Arabah Joy and I (along with Dr. Edie Wadsworth of Lifeingrace & The Oily Sisterhood)  as we spend 5 days eating only the nutrients we need to keep us strong & healthy while feasting on what gives us true joy and renewal: Jesus. 
This 5-Day Cleanse has been a game changer for me in my own health since completing it two times now.
My journey to wellness (both physically and emotionally) has been topsy turvy to say the least. After 3 babies in 3 years, my emotional wellness tanked. I spent years on anti-depressants, prescription sleep meds, 40+ pounds overweight and pre-diabetic. Over the last year, the grace of God has allowed me to come off all of my meds, lose 42 pounds and find energy, joy and abundant life once again. He is good. You can read more about my journey here.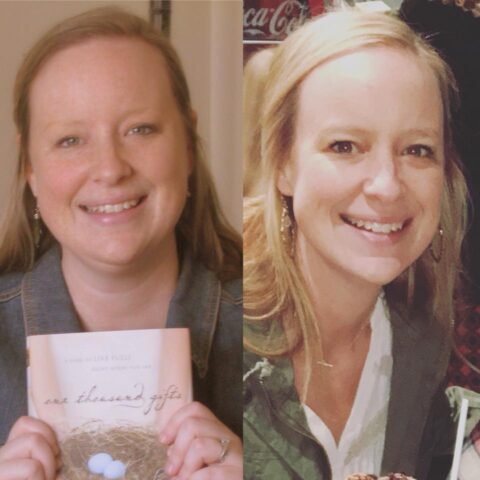 This cleanse helped me in so many ways. First of all, most of us are addicted to foods that make us sick. Food is medicine. If we can deny our flesh what it wants and only feed it what makes us strong, we are more equipped to use the temples we've been given to live out the callings God has on our lives. Abstaining from the processed foods and junk that many of us eat for 5 days will prayerfully be a jumpstart to the healthier eating habits we need.
I don't know about you, but I need energy to live out this life God has given me. And my wellness journey has taught me that these right choices go a long way to helping me be all God made me to be.
Secondly, the cleanse helped me to push past a weight loss plateau and keep moving forward on my health journey.
Third, a cleanse has such spiritual value for us as well as physical. It is good for us to deny ourselves. It is a spiritual discipline that has value for our mind, body and soul.
Cleanse Private Facebook Group
Arabah and I  will be hosting a private place on Facebook where we can walk through this cleanse together. You will find accountability, daily verses being shared and a safe place to share your prayer needs as well as what God is teaching you during this week of fasting yet feasting.
Once you've purchased your cleanse kit OR if you need help ordering, please feel free to reach out to me at candace@mercyisnew.com and I will be happy to help and then get you added to our group!
**This closed facebook group will only be for current members of our team Love, Mercy & Oils or the Oily Sisterhood.
How to Order the Cleanse
Read more about the cleanse and my 1st experience with this cleanse here! 
There are several ways you can get started with this cleanse.
1. Purchase the cleanse at retail cost without becoming a wholesale member. The cleanse, at retail cost, is $164.14.
2. OR, you can join as a wholesale member AND get the cleanse at the wholesale price for $161.25 AND when you join as a wholesale member with the cleanse I will GIFT YOU $15 back to cover your shipping & tax! So, that ends up being CHEAPER than the retail cost! (To get the membership AND the cleanse for $161, you need to join as a wholesale member by purchasing the BASIC KIT for $45 and then add on the cleanse to your order as well!)
Your membership will also include entrance to a closed, private facebook group led by Dr. Edie Wadsworth who does continuing education on wellness and all the essential oils and supplements. You will love learning about healthy living from a doctor's perspective.
Go to YoungLiving.com
Click "become a new member" on the top right of screen.
Choose wholesale/distributor, NOT retail.
Put MY number in both boxes so that you end up with our group: 3387390
Put the "basic kit" in your cart.
Add the "5-Day Nutritive Cleanse" to cart by searching for this product in the search bar.
Check out with form of payment.
Send me a message to I know you want to join our group!
Fasting Yet Feasting
Let us be found faithful to feast on Jesus. Sometimes this means we fast from the world for a season. As we set aside this week leading up to Easter, let us fix our eyes on Jesus, the author and perfecter of our faith, who for the joy set before Him endured the cross.