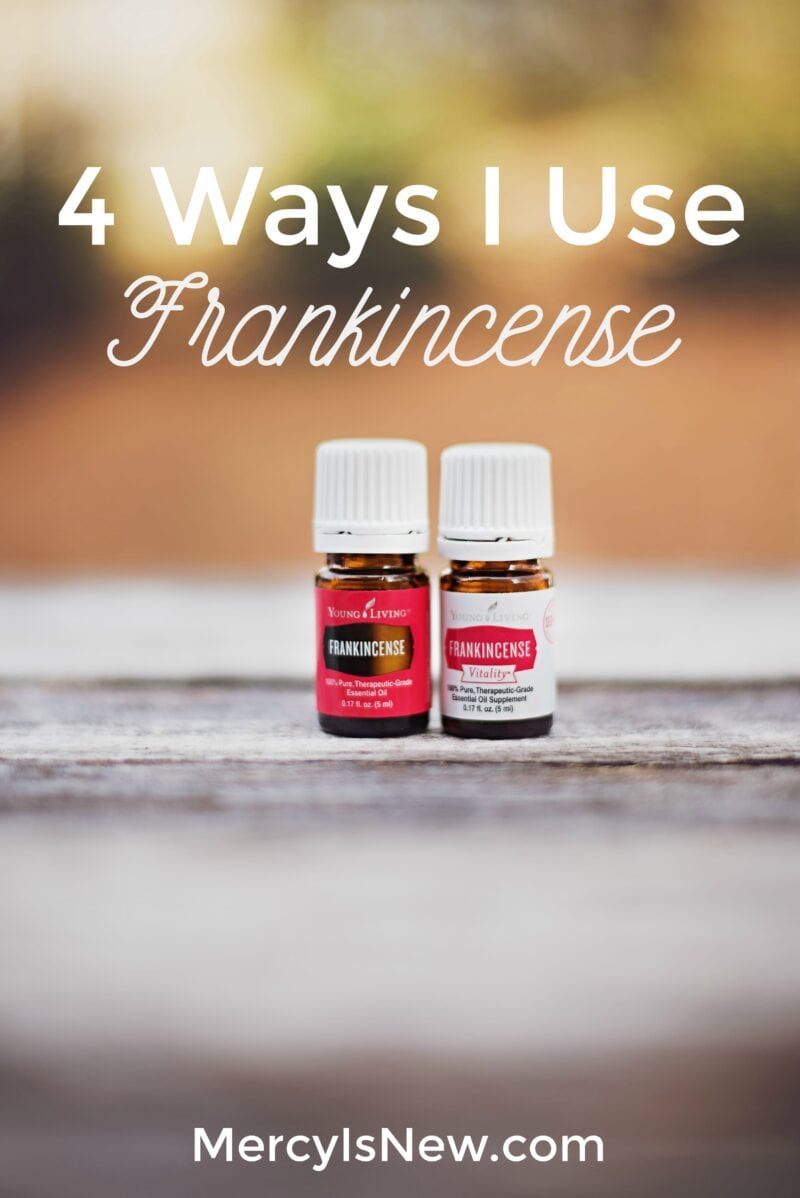 Because I have shared so much of my journey here over the years, it is only fitting that I now share the things that are helping me the most!
And frankincense is probably THE OIL that has helped me on my journey to emotional wellness more than any other! (regular label for skin & diffusing, vitality label for ingesting!)
Of all the ancient scripture oils, frankincense has the greatest story and the longest history – widely regarded as the most powerful aromatic substance in ancient times. Frankincense historically has been considered more valuable than gold.
Frankincense trees exist today that could very well have existed during the time of Christ. Our Frankincense is SO amazing and there is none in the world like it—harvested from trees that are more than 40 years old by the expertise of Bedouin shepherds that have been doing this for thousands of years.
4 Ways I Use Frankincense
I put a drop of frankincense in my face moisturizer every morning. Frankincense is so good for your skin, among many other things!
I put a drop of frankincense vitality on my thumb and press to the roof of my mouth for moments of stress & overwhelmed feelings. You can do this as needed.
I put frankincense (with Peace & Calming – heavenly!) in my diffuser at night when it's been a really long day! 2 drops of each. In addition to the diffuser, I carry a bottle in my purse and smell as needed.
For the last week or so, for extra support, I have been putting 2-3 drops in a capsule for extra emotional support. (Do not ingest oils from walmart or anywhere else…you don't know exactly what all is in these oils.)
How to Research
I wanted to make a quick recommendation. I know for many of us oils start out as being really weird and we find ourselves pretty skeptical. I know. I've been there. Ask my good friend that I bought my starter kit from. I think she tried to convince me for over a year. ha! AND I did NOT buy my starter kit for emotional wellness. I got started with essential oils for other reasons…but emotional wellness has been the NUMBER ONE benefit I never expected. Essential oils are SO good for mood.
Your sense of smell goes straight to that part of your brain where your emotions, memories and hormones are stored. Do you have any smells that trigger memories for you? THAT is why essential oils work! Your other senses do not do this!
Do some google research:
sense of smell and limbic system
essential oils and amygdala
go to PubMed and type different oils and benefits into the search bar. I dare you.
sense of smell and memories
sense of smell and emotions
essential oils and emotions
Getting Started with Essential Oils
The best way to get started with essential oils is NOT to get one oil and hope it changes your life. 🙂
Click here to shop my Young Living link. You no longer need a starter kit to get started BUT the starter kit is the BEST way to get started with oils!
We have a starter kit has 12 of the most well-loved oils AND a diffuser (everyone using oils NEEDS a diffuser or 10) with some samples and a wholesale membership that will save you 24% off everything on the site.
The best part? You get our SISTERHOOD of women on this wellness journey led by my friend and a medical doctor, Dr. Edie Wadsworth. She does tons of teaching and videos and classes inside our group just for our team. She has classes on gut health, hormones, nutrition, emotions and more. You will love her teaching and learn SO MUCH.
In fact, one of my goals is for NONE of my members to feel so overwhelmed they don't know what to do with their oils! We LOVE answering questions and supporting our members and truly become like family.
Click here to read more about my story and how oils have played into that.  As soon as you get our kit ordered we will add you to our groups. You can start learning right away before your kit ever comes in the mail!  Please feel free to comment or send me an email or message if you have any questions!
The Young Living Starter Kit