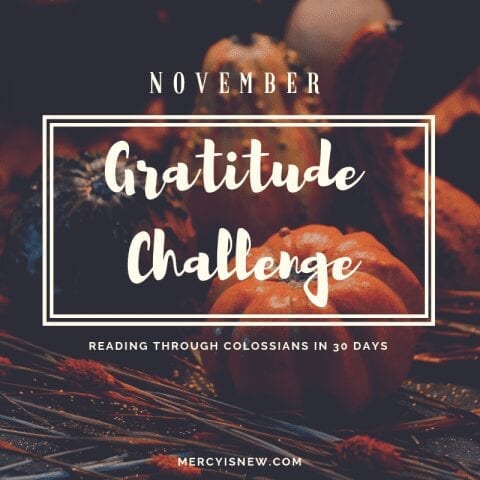 "Be transformed by the renewing of your minds…" Romans 12:2
Join me in November as we RENEW our minds with God's Word and GRATITUDE. That renewing from Romans 12:2? That takes work. It's ongoing. It's a process. It's daily choices.
During the month of November we will be reading through the book of Colossians, I will share the reading plan sometime before November 1st right here on the blog.
Here's what you need to prepare for November 1st:
Print the Colossians reading plan.
Grab a new notebook or journal to keep as your gratitude journal AND/OR to write out the book of Colossians as we read a few verses each day in November. (More about WRITING the Word.)
Or an index card spiral to write key verses and phrases on that you need to remember or want to memorize
Focus on RENEWAL. Replacing lies with TRUTH. If you need help with deciding what truths to focus on, you can print these verses from September.
Join me here:
I will not be doing a daily blog post for this series. However, you CAN read the daily verse on my facebook page or Instastories.
Look for a post on November 1st to get us started and then I will be posting on the blog WEEKLY as we go along, but not daily. 🙂
Click below to print your reading schedule!
SCHEDULE NOVEMBER GRATITUDE CHALLENGE