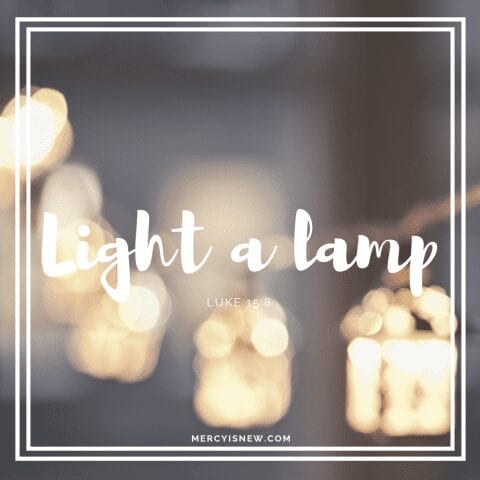 Scripture: Luke 15:8
"Or what woman, having ten silver coins, if she loses one coin, does not light a lamp, sweep the house, and search carefully until she finds it?"
Considering Light:
What does this passage teach us about light? At first glance, this parable really isn't about light, and you could argue that light really doesn't have much to do with it. And yes, there are bigger implications to be found in this parable for sure, but I like to take passages and bring out the smaller phrases that are sometimes overlooked. Often there are big lessons hidden in small phrases.
The woman in this story has lost a coin. Something precious to her. She only has 10, so losing one is a big deal. What does she do when she realizes she has lost one? She turns on a lamp, she sweeps, she searches.
In this parable, the lost coins represent a lost person on this earth and how God desires for each to be found and become His child. What does God do for the lost? He turns on His lamp (the light of Jesus in each of us, His children!) He searches! I love this parable so much. He truly does not desire for any to perish without Him. This is the love of the Father. This is the love of Jesus IN us. Friends, we can't hide this love and this light in us.
Prayer:
Lord, help me to be like the woman in this parable. Help me to shine my light to those around me so that none will perish without coming to know the love of the Savior. Your love, oh Lord, reaches to the heavens! Your love amazes me.
To grab your free ebook of these devotions, click here to subscribe.
Find all the posts from this series here (or click on the image below)