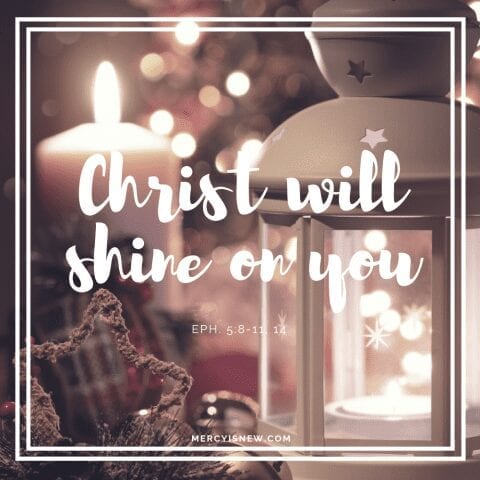 "If when I am able to discover something which has baffled others, I forget Him who revealeth the deep and secret things, and knoweth what is in the darkness and showeth it to us; if I forget that it was He who granted that ray of light to His most unworthy servant, then I know nothing of Calvary love." Amy Carmichael
Scripture: Ephesians 5:8-11, 14
"For you were once in darkness, but now you are light in the Lord. Walk as children of light "for the fruit of the Spirit is in all goodness, righteousness, and truth), finding out what is acceptable to the Lord. And have no fellowship with the unfruitful works of darkness, but rather expose them…'Awake, you who sleep, arise from the dead, and Christ will give you light."
Considering Light:
We can give much thanks that we were once in darkness but now we are in the light of the Lord. But, in addition to being thankful, we must continue to walk in that light. We cannot keep that light hidden under a bushel. What does that light look like? The fruit of the Spirit is a great place to start, as is mentioned in this passage in Ephesians. The light is all goodness, righteousness, truth.
If you go back and read the passage right after this verse in Ephesians, you will be given even more instruction on walking in the light of Christ. Read Ephesians 5:15-21.
Prayer:
Lord, with a grateful heart for being brought out of darkness, I desire to walk in the light as You are in the light. I desire for the world to see Your fruit in my life. May we have no fellowship with darkness. And where we see darkness around us, may we shine Your light even more brightly.
To grab your free ebook of these devotions, click here to subscribe.
Find all the posts from this series here (or click on the image below)