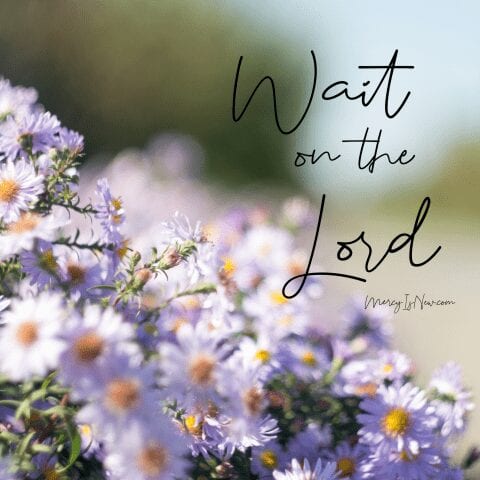 "Wait for the Lord, be strong and take heart and wait for the Lord." Psalm 27:14
Having finished memorizing Psalm 27 last week with all of you on Inststories, (see my highlights if you missed it!) the last verse in Psalm 27 reminded me of all the amazing verses in God's Word about WAITING on Him.
Most of us despise waiting. We look for ways to avoid it. Yet God's Word is full of verses encouraging us to wait on Him.
I think often we have a negative emotion about waiting because we are waiting on the WRONG thing.
Maybe we are waiting on someone to change. Maybe we are waiting on a better job. Maybe we are waiting to pay off the debt. Maybe we are waiting til we feel better. Maybe we are waiting on our circumstances to change.
Each and everyone of those things we wait on will lead to disappointment, right? We can't wait (and place our hope in) someone else changing!
Waiting on the Lord never disappoints.
Waiting on God.
It doesn't sound exciting does it? To begin waiting? To continue waiting? We hate waiting. Waiting in lines. Waiting on children. Waiting on spouses. Waiting on money to come in. Waiting on test results. Waiting on God with an endless list of desires. Waiting. Usually we think of waiting as a drudgery.
But there are times when I'm excited about the waiting. I'm actually eager for a period of waiting to begin. Eager to wait…almost seems like an oxymoron. During the Advent season, I'm eager for the joyful expectancy of the birth of my Savior. I'm eager for a period of reflection, worship and prayer. I'm eager to wait. During the Lenten season I'm eager for a period of reflection and worship, a focus on prayer and quiet. Sometimes a period of waiting is just what my heart needs. 
Sometimes we have to be intentional about waiting on the Lord. We aren't good at it, truthfully. When my calendar becomes too full, I don't have time to worship. When my calendar becomes too full, I don't take the time to pray that my heart so desperately needs. When my calendar is too full I have to say "no" to serving others when I really wish I could do it. I am learning that to be a true servant means putting aside my own wishes for certain plans so that I be free and open to say yes to serving someone else. 
When my calendar is too full, I don't have time to enjoy the many gifts and blessings that God has given me…the beautiful colors of creation…the laughter of my children…the sweet whispers through His Word…the smile of a stranger.
I believe this is what it means to "wait on the Lord." Waiting with Him. Waiting for Him. The beauty of waiting is that when I am focusing on Him, my heart becomes transformed…
In the waiting, He is making me more like Him. A true miracle.