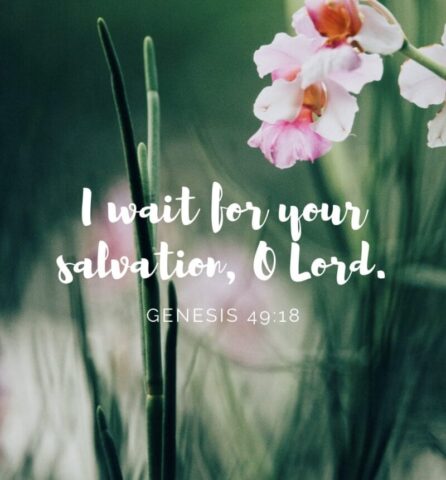 Lord, Thou knowest all the hunger
Of the heart that seeks Thee now;
How my soul hath long been craving
What Thou only canst bestow.
Seeking now, seeking now,
Let Thy Spirit meet me now.
Freda H. Allen 
Scripture
"I wait for your salvation, O Lord." Genesis 49:18
In the Waiting
Waiting just isn't at the top of my list for fun things to do. In fact, when I ponder waiting on something, I get a sense of drudgery, I get anxious, I want it to end. 
But, with God, there is no need for anxiety or fear. The One for whom we wait has good things in store. The gift of salvation is worth the wait. Looking toward that day when we see Jesus face to face…that is a waiting I can anticipate with joy. 
Waiting on God isn't drudgery. Waiting on God actually cures drudgery. Fixing our eyes on Jesus brings the calm. Waiting on God fills us with peace that passes all understanding because we focus our hearts and thoughts on Him and His goodness rather than what we lack in this world. 
Prayer
Lord Jesus, I wait for Your salvation. You are worth the wait. Every moment of every day, I wait on You. My hope is in You alone. Nothing else compares to Your love. Nothing else in this world satisfies the longings of my soul.
To print your 31 day schedule click here!