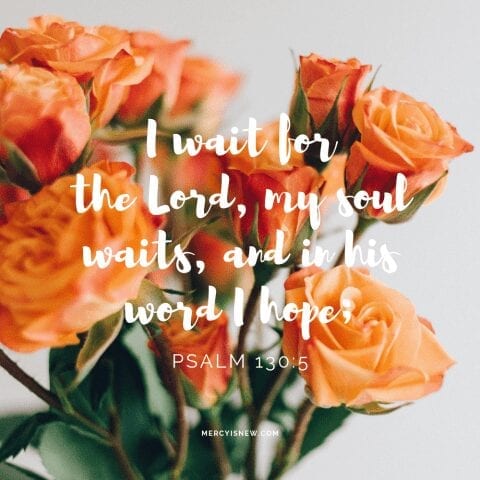 Scripture
"I wait for the Lord, my soul waits, and in his word I hope; my soul waits for the Lord, more than watchmen for the morning, more than watchmen for the morning." Psalm 130:5-6
In the Waiting
To wait and hope in the Lord like a watchmen watches for the morning? That's a pretty bold statement.
Let's look for just a moment at what a watchman is and what he does.
Watchman: noun, a man employed to look after an empty building, especially at night. Historical definition: a member of a body of people employed to keep watch in a town at night.
The watchman was hired — it was his life's calling — to keep watch, especially at night. The watchman didn't sleep, he kept watch all night. The watchman was always looking out for the safety of his town, he may have placed himself in the path of danger to protect his fellow townsmen. And why did the watchman wait and watch for morning? He would receive a break from his duties…He would look forward to morning knowing that he wasn't in charge anymore, he could relax.
Do we hope in the Lord with that same anticipation? When we wait on the Lord like the watchman waits for morning? Can we relax knowing that God has it all under control? Can we let go of the control we think we do have? Because, waiting on the Lord means you are surrendering to His purposes and His ways for your life. You are releasing that "duty" to Him, no longer carrying it yourself. As a child of God, sometimes this is a daily task. Let's go before God daily and tell Him that we surrender, we yield to His sovereignty and we trust His plan for our lives. Let us wait for the Lord like the watchman waits for the morning…with anticipation and with a total sense of peace that you're "off duty" and Someone Else has everything under control.
Prayer
Oh Lord, our desire is to wait on You alone, to hope in You alone. Like the watchman pays close attention to his duties, so we fix our eyes on You. Like the watchman eagerly awaits morning, may we eagerly await Your presence and Your joy in our lives. May we truly surrender to Your sovereignty and the hope that can only be found in You.
To print your 31 day schedule click here!