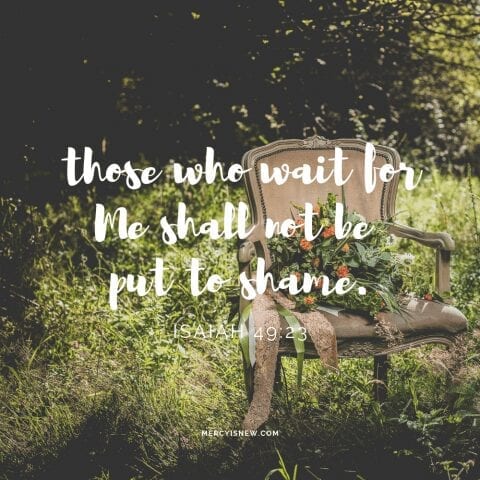 "We're going to have to let truth scream louder to our souls than the lies that have infected us." Beth Moore
Scripture
"Thus says the Lord God: 'Behold, I will lift up my hand to the nations, and raise my signal to the peoples; and they shall bring your sons in their arms, and your daughters shall be carried on their shoulders. Kings shall be your foster fathers, and their queens your nursing mothers. With their faces to the ground they shall bow down to you, and lick the dust of your feet. Then you will know that I am the Lord; those who wait for me shall not be put to shame." Isaiah 49:22-23
In the Waiting
Those that wait on the Lord will not be put to shame. Shame is such a tricky thing. Shame is a painful emotion caused by our own consciousness of guilt or shortcoming or impropriety.
Are there times in our lives, as believers when we will feel guilt and shame over our sinful choices? Yes.
But we can't stop there and live in that guilt and shame. Repentance is a beautiful thing. Once we have gone before the Lord, confessed our sin and turned from it, the Lord is faithful to forgive.
At this point, any guilt and shame that we are left with is from the enemy. So many of us get stuck in this. We must claim the truth of God's Word and not live in condemnation. This is one of those instances where we must put on the armor of God and do battle. We cannot continue to walk in shame and walk in the light of Jesus at the same time. Those that wait on the Lord will not be put to shame!!
Now would be the perfect time to learn, memorize and pray Romans 8:1-2. Cling to this truth, friends; don't cling to the lie of the enemy that you are stuck in your sin. You are a new creation!!
"There is therefore now no condemnation for those who are in Christ Jesus. For the law of the Spirit of life has set you free in Christ Jesus from the law of sin and death." Romans 8:1-2
Prayer
Lord Jesus, You tell me in Your Word that when I wait on You I will not be put to shame. Lord, help me to trust Your truth and be at peace with my past. You have thrown my sins as far as the east is from the west. There is no condemnation in You. Praise You! Help me to live in this truth. God, when the lies from the enemy begin to attack my mind, I ask for Your grace and mercy to wash over me. Fill me with Your truth, by Your grace help me to hide Your Word in my heart that I might know truth from lies, that I might fight off the enemy and that my soul will truly rest in You.
To print your 31 day schedule click here!