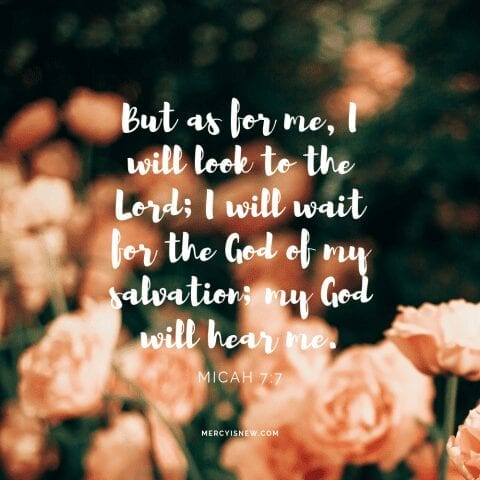 Scripture
"But as for me, I will look to the Lord; I will wait for the God of my salvation; my God will hear me." Micah 7:7
In the Waiting
As for me, I will look to the Lord. Waiting on the Lord can be a lonely thing. If you've waited for an extended amount of time on anything in your life, you probably know that loneliness. You feel forgotten by others who have moved on while you still wait for this one thing. You feel misunderstood as others can't possibly understand your lack in the midst of their gain.
Waiting on the Lord can bring about similar feelings, yet our feelings don't determine truth. Our very waiting on the Lord draws us closer to Him. We are never alone. Others may not understand our desire to wait on God or to have our eyes continually fixed on Him, but when our hope is in God alone, we begin to not care quite as much what others think of us.
Don't look at waiting at a drudgery. Begin to see waiting as the gift. More time with Jesus. More time to think on His goodness. More time to treasure His Word. More time to let God do His pruning work. Is it easy? No. It is painless? No. But, when we know the touch of the Savior's hand, we can't help but want more of it.
Prayer
Father, but as for me, I look to You. No matter how lonely I get, I wait for You, the God of my salvation and I know you will hear me. No matter what the world says, my hope is in You and so I wait. I have decided to follow Jesus, no turning back, no turning back. Though none go with me, I still will follow. No turning back, no turning back.
To print your 31 day schedule click here!