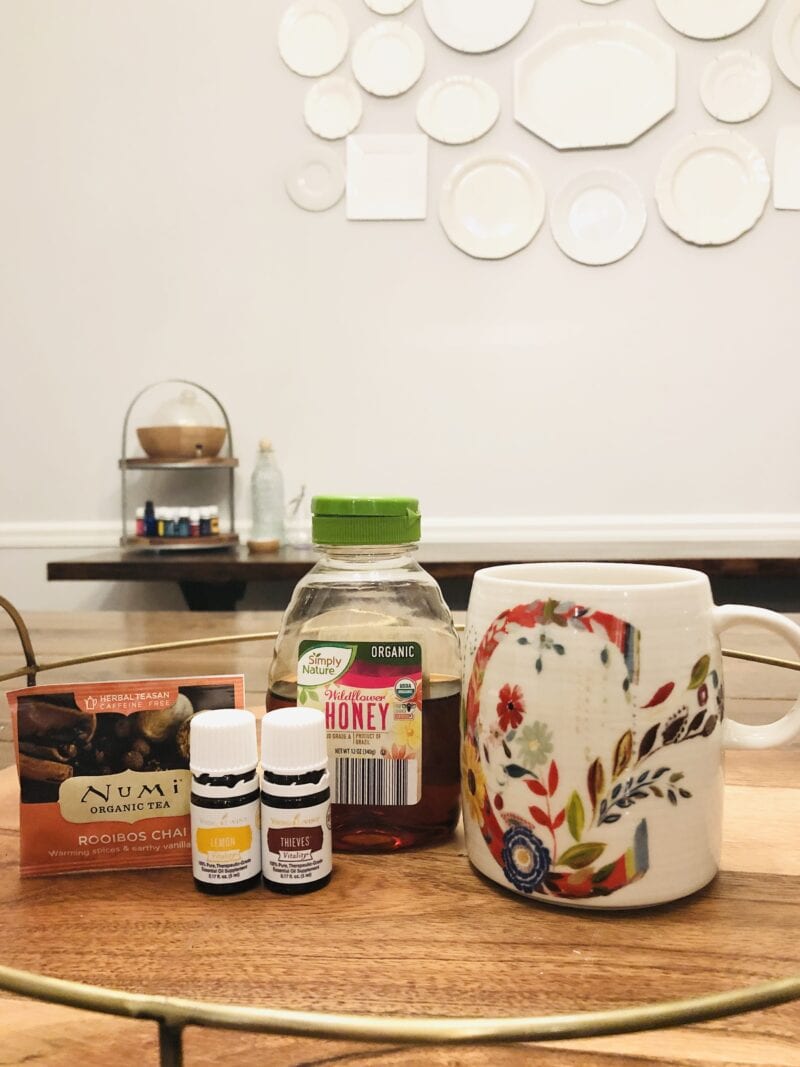 I cannot believe how rampant the flu and other sickness has been in East Tennessee this year!
I've had a little bit of a sore throat so I am doing ALL the things to try and keep that at bay and ward it off!
I wanted to share ONE of those SIMPLE ideas with you today! This tea is super easy and SO full of immune boosting qualities!
Items Needed:
1 tea bag of your choice
1 spoonful organic honey
1-2 drops Lemon vitality oil
1-2 drops Thieves vitality oil
hot water
Directions:
Put honey in cup. Add drops of essential oils to the honey. The oils will mix better with the honey, so I always put those in first. Then add hot water, tea bag and stir! Easy peasy!
The white labels on the oils you see in the picture are Young Living's vitality line. This means they are labeled for ingestion. I use oils in a LOT of different ways depending on the support I need and the best way to use them for each individual issue.
You can use essential oils topically, aromatically and internally. Note that I would only recommend internal usage with oils that you can trust and you know exactly what is in the bottle as far back as what was used on the farm where the plants were grown! It matters if pesticides were used, etc.
I have now been to FOUR Young Living farms and I am AMAZED each and every time at the passion, the purity, alllllll the detail that goes into the seeds being planted and harvested, the distilling, the bottling…it is truly amazing.
I used to wonder WHY it mattered what brand of oils you used. Now I have seen with my own eyes the DIFFERENCE.
How are you trying to stay well this winter??
To read more about my my essential oil journey, you can click here.
Getting Started with Oils
Getting started with oils doesn't have to be complicated! Just grab your starter kit with my link, which then makes you an instant part of my oily family! No selling required. No commitment, either
But as soon as you order your kit, I will help get you added to our awesome communities on facebook and instagram so you can learn to your heart's content! We have monthly classes, welcome emails, texting series and so much help for you as you dig in and learn more about how to use these oils! I would LOVE to help you on your journey! Just go here and click "become a wholesale member" which is just like getting a Sam's or Costco membership.