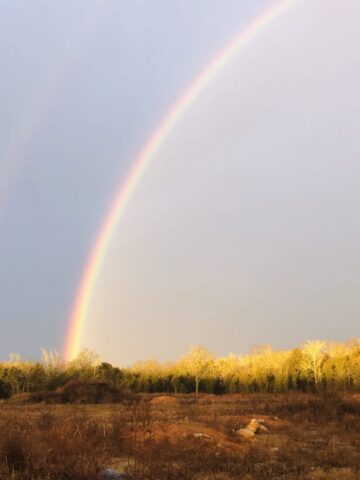 I don't think I've ever seen such a fast, visible response to my prayers. And yes, I'm choosing to believe the timing of this rainbow wasn't just science, it was a gift from God straight to my heart. I was driving home with the worship music blaring, praying out loud about several painful situations others are dealing with and a situation I feel kind of hopeless about.
I look ahead and the biggest rainbow I think I've ever seen appeared. It was as if God was saying to me, "I am your hope. Not the relationship or that the situation would be fixed or perfect, but ME. I am your LIVING HOPE."
Hallelujah, praise the One who set me free
Hallelujah, death has lost its grip on me
You have broken every chain
There's salvation in Your name
Jesus Christ, my living hope
If you've never heard this full song entitled Living Hope, you must go listen to it! It's one of my favorites right now!