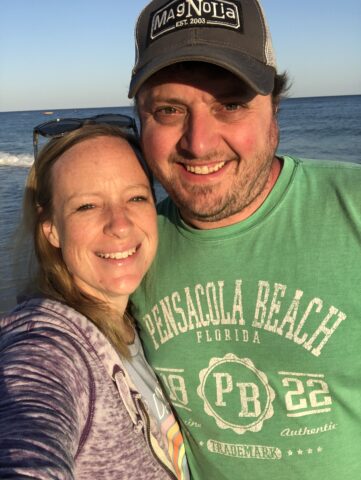 It was a weird week at the beach. I wanted to come to the beach for Mother's Day because sometimes this holiday is hard. Maybe that seems weird if you're looking from the outside, but you never know what people are dealing with, do you? 
That said, the beach is my happy place. It's been windy and a bit chilly, but I haven't minded. David and I both continued to work this week while we were here. We work from home regularly, why not work with a beautiful view for the week?!
Usually I can sit on the beach and forget about the problems of the world for a few minutes at least. But this week there was no escaping the realities that we now live in. Every walk to the elevator reminded me that something is just not right. When did we become so scared of other people? 
I'm sure you've noticed that I never post controversial stuff on my page. I'm a sensitive feeler and I FEEL the pain of others. I have cried and physically felt the brokenness and pain for people I don't even know for as long as I can remember. It's who God made me to be. And I don't want to be a part of so much DIVISION. It breaks my heart to scroll my feed right now.
The shaming I internalize from BOTH sides makes me angry. If I don't feel like our nation should continue down this path of shut down, I suddenly am selfish and uncaring. But if I don't speak up for our rights and freedoms I'm suddenly a coward who doesn't care about the future of our children or our constitution.
I look around and can't believe what is happening. But I can't stay there too long, friends. I'm sorry to disappoint with my lack of response, but I have to take my OWN STAND.
My hope is built on nothing less than Jesus' blood and righteousness. I have to step back and stop focusing on the division and focus on the One who is never divided. He is on His throne, He is holy, He is love, He is good. I have to stop focusing on the shaky ground that it looks like to me and look to the SOLID ROCK on which I stand.
I must turn my eyes upon Jesus because when I don't, it's all sinking sand. I must keep continually refocusing my mind and thoughts because when I don't the fears rise again and threaten to overtake. I must keep training my thoughts with TRUTH to replace the lies of the enemy.
Most of all, I find myself longing like never before…this world is not my home and I have never been so grateful for that hope. 
I'm kind of homesick for a country
To which I've never been before.
No sad goodbyes will there be spoken
For time won't matter anymore.
Beulah Land, I'm longing for you
And some day on thee I'll stand.
There my home shall be eternal.
Beulah Land — Sweet Beulah Land
I'm looking now across the river
Where my faith will end in sight.
There's just a few more days to labor.
Then I will take my heavenly flight
(Sweet Beulah Land hymn lyrics)