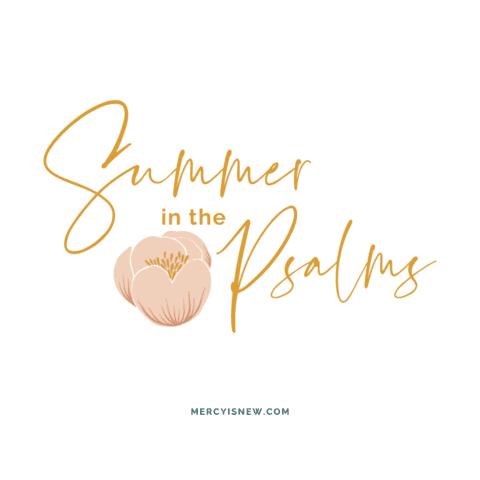 The Psalms wrap nouns and verbs around our pain better than any other book. – Joni Eareckson Tada
Isn't this such a beautiful truth? We see battles fought, the depths of depression, dancing for joy and giving thanks in it all woven throughout the Psalms.
Join me for my favorite summer reading plan: Summer in the Psalms! We've done it before, we're doing it again! Let's set our minds on THINGS ABOVE this summer!
Why? It's so simple to just take 5-10 minutes (or more if you have it!) to start each summer day with a little boost of truth and hope from the Psalms!
You can print the schedule (or save to your phone) and read on your own or you can follow along on my stories on Instagram where I will chat each morning about one of my favorite nuggets of truth from that day's reading! Each verse will also be posted each morning on my Facebook page.
TAKE IT DEEPER
Write the word. Choose a psalm or just one verse to write in a journal or on an index card to carry with you through the day.
Choose one psalm to memorize all summer. If you have kids at home, have them memorize it with you! Yes, kids can memorize entire chapters of Scripture with you!!
Pray the Scripture. Choose a focal phrase or verse from the day's reading and speak it to God as a prayer.
Study the historical background around the time that the psalm was written. If David wrote it, what was happening in his life during that time? We don't know those fact about all the psalms, but some of them are very fascinating to learn about!
Invite a friend to join you and you can discuss a psalm each day and encourage each other via text or phone call!
SUBSCRIBE BY EMAIL
Everyone who is subscribed to my blog by email will receive some free PRINTABLE SCRIPTURE CARDS to go along with our Psalms this summer!!
PRINTABLE READING PLAN
Click this link to print your Summer in the Psalms reading plan!
(P.S. I'm working on a SUMMER IN THE PSALMS playlist! You can find it here or here!)