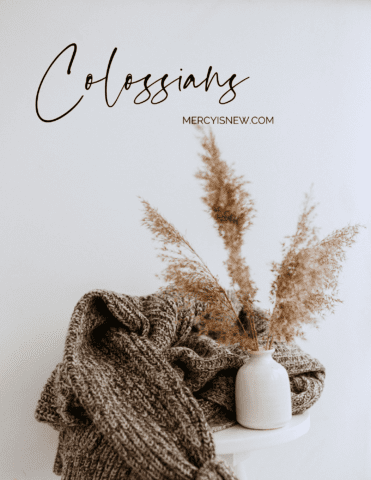 Let's kick off the New Year in one of my favorite books of the Bible: Colossians. We will read a few verses each day and I encourage you to make this reading plan what you'd like it to be! It's super easy to make it MORE or just simply read a few verses each day. If that is all you have time for, just being in God's Word daily is always enough.
TAKE IT DEEPER
Join me each morning on my Instagram stories for a short chat about the daily verses.
Find this free devotional plan to take you through the book of Colossians on the YouVersion app.
This study from Daily Grace won't get to you in the mail by January 1st but when you purchase a study from Daily Grace you also get access to the online version on their app.
Write the word – writing the word helps us focus and really meditate on the verses. Since there are only a few verses to read each day, you could easily spend a few minutes writing these verses in a journal to go with your daily reading.
Choose a passage from Colossians to memorize during the month of January.
Share on Instagram – I love it when you tag me and I can re-share what YOU are learning as we read together! This helps us to build community and it is so good to learn from each other!
PRINT OR SAVE THE DAILY VERSES