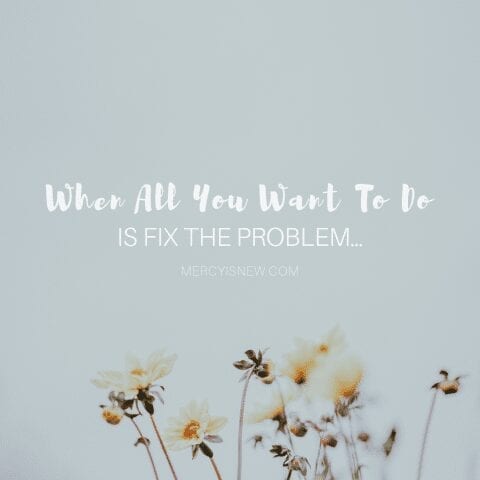 Parenting and homeschooling haven't come easy to me. (I know, they don't come easy for you, either.) I am nearly constantly flooded with the thought that I need to find the answer that will solve our problems. Oh, I don't say it quite like that in my mind…
But, when we have a rough day, I get online and start googling. I ask friends. I look for new programs. I look for a book. I look for an answer.
Yet, God, in His infinite wisdom, whispers to my heart…
"Look to me, I am the answer, gaze at my face and not your problem. I don't want you to fix your problems, I want to fix your heart."
I am an over-thinker and a researcher by nature. I want to find the best curriculum. The #1 parenting book. The best way to clean my cabinets. The best remedy for my child's sickness. An easy fix for my broken heart.
When I get so focused on the problem and trying to fix it, I begin to lose sight of God.
And when I lose sight of God, I lose sight of the fact that He has called me to love my children and not fix them. In fact, He hasn't called me to fix myself either. Why do I even begin to think that I can? 
Why do I think there is one big answer sitting out there that will solve all my problems? As a mother, I should know by now that life is a journey…my children are on a journey too, they won't be fixed or perfected with a new discipline method or formula or 3 easy steps.
God is working on their hearts like He is working on mine.
So, let's make a pact. You and I.
The Vow for All Wanna Be Fixers 
Today, I vow to look more at Christ than I do my problems.
Today, I vow to scroll through God's Word more than I scroll through social media.
Today, I vow to love my child right where he is and not keep looking at what is wrong with him.
Today, I vow to encourage hearts, mine included, without critically looking at every issue.
Today, I vow to let a trial turn my eyes to Jesus and not google.
Today, I vow to remind myself that I am not the God of the universe sent to fix all my family's problems.
Today, I vow to preach the gospel to myself because I need the good news as much as my children do.
A Prayer for All Wanna Be Fixers
Lord, we confess to You our shortcomings.
We confess to You that we often try to take Your job by fixing it all.
We acknowledge You as God and trust You as Lord over all.
Help us in our weakness, Father, to relinquish what we think of as control and allow You to lead us and guide us in Your truth.
God, remind us that there is freedom in letting go and trusting You.
You are so trustworthy and faithful.
Amen.
When I Just Want to Fix It All PDF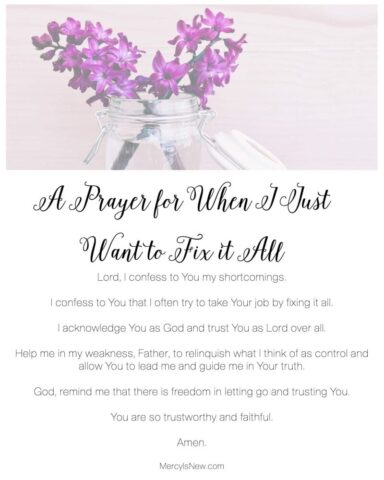 3 Years Off of Anti-Depressants
I would love for you to read an update now that I have been off all of my anti-depressants for 3 years and am thriving. God has been so good to me. My mindset has changed. My health has changed. We are never truly hopeless if we have Christ. We have the power of the Holy Spirit living within us giving us the power to make the steps necessary to BE TRANSFORMED.
My Journey Off of Anti-Depressants
My wellness journey & 51 pound weight loss!