I am so excited I can hardly stand it!! You may have already known that I'm a musician and love worship music. You may not have known that I love the music of Keith and Kristyn Getty.
You may have already known I'm planning to attend the Teach Them Diligently Conferences in Nashville next year. You may not have known the GETTY'S are going to be there doing a FREE concert for all attendees!! I'm SO excited!
Last year, our choir at church did a Celtic inspired Christmas program in December…and we sang several of the Getty's songs. Their songs are amazing…Christ-centered modern day hymns. Truly a gift to worship through their music.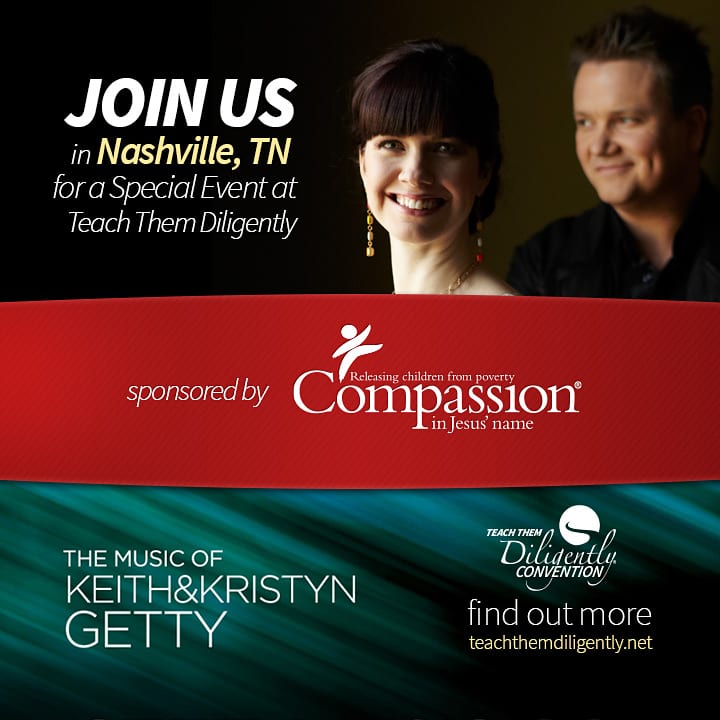 To go to a concert by the Getty's generally would cost you around $25 per ticket! But when you come to Teach Them Diligently as a family you will ALL get in FREE with your registration!! **You DO NEED A TICKET. You can ADD a ticket to your registration (as you register or after you've registered) free of charge. You can also add on the children's program, the men's breakfast, etc.
I hope you will consider registering for the Nashville location of Teach Them Diligently, which will take place March 20-22. When you register through my links, my family is blessed tremendously at NO extra cost to you! We appreciate you!
Use code SAVE7THANKS to get $7 off your ticket til 11/30. 
Are you familiar with the Getty's? Their music is amazing…I will leave you with one of my favorites to enjoy today.