Today we are blessed to have a guest post from my blogging friend, Wendy, from Striving to Follow Him! 
Our family has been homeschooling for close to 9 years. We have used many different curriculum packages (or bits and pieces of them), copy work, videos, math programs, manipulatives, life circumstances, tutorials, and lots of fiction to aid in our learning throughout our homeschool adventure. We do have a few favorites, just as we have several programs that we have set aside because they just did not work for us (but may be great for other families!).
It has been a process, but early on I realized that I did not want to put myself in the 'teacher' role in our home. I have tried to remain their parent, and use any opportunity to teach them that which will help them to get along well in life. For us, that means 3 main things:
Explain. When a child asks a question, don't simply answer it, explain what you mean. Many times, depending on age and interest level, your child will not need more than a quick answer, but be willing to spend more time explaining, if necessary. This has been a fabulous way of teaching in our family!
Provide a learning environment. This may seem obvious, especially for those of you who already homeschool! Let me clarify what I mean. Books are great, and textbooks can be the key to learning for some children. But be sure to provide an environment where your children can go beyond the books. Let them experiment in the kitchen, take your learning outdoors with a walk around the neighborhood or to the park (take a nature guide and you'll be ready to help them identify flowers, animals, animal tracks!), complete service projects together, serve at church as a family, and go on lots of field trips. All of these environments are filled with learning opportunities. Education does not only consist of what is learned from a book or lecture!
Point them to Jesus. For myself, I will not feel successful if my children leave my home upon going to college or getting married if they do not know Jesus. I do realize that I am not the person who can make that happen. Only God can soften their hearts and bring my children into a relationship with Himself. However, I can be willing to surrender my will, my homeschool, and learn more myself so that I can disciple my children. I can point them to Him so that, when God speaks to them, they will be ready to step into a relationship with Him. Oh, how I long for that day for each of my children, and I rejoice in the knowledge that some of them are already a part of His kingdom!
Here is a short list of some of my favorite resources for parents. I have gleaned much wisdom from these books as I have pursued the best learning environment for my children!
Resource List for Parents
Do you have a favorite resource or tip for discipling your children? What are some of your favorite learning tools? Please leave a comment. I would love to learn about you!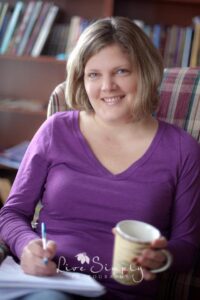 Wendy Woerner is mama to 5 beautiful blessings and has been married to her high school sweetheart for just over 18 years. Her family is working through their 8th homeschooling.
You will find Wendy blogging about her life at Striving to Follow Him and sharing recipes and cooking tips over at Southern Test Kitchen. Wendy is also an allergy-friendly recipes contributor over at Managing Your Blessings, writes roundup posts over at Frugal Homeschool Family, and is the founder of Your One Tree. When not working, Wendy loves spending time with her family, getting creative in the kitchen, reading about all forms of homeschooling, and encouraging other moms that they can be successful with homeschooling, too!
Wendy would love to hear from you, so please leave a comment here or on her blog! Connect on Facebook and Twitter, too!