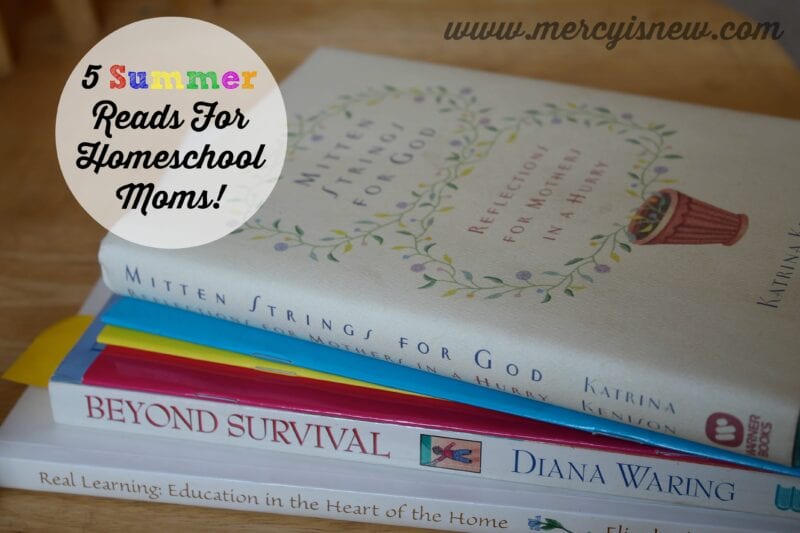 No matter your occupation in life, everyone needs a little inspiration from time to time! Teachers are no exception to this…especially homeschooling teachers! We are with our children 24/7 year round. Sometimes we need to take some time out and read a book, talk with friends, remember why we decided to homeschool our children to begin with!
These are my favorite books to read when I need some inspiration or encouragement regarding homeschooling. And summer is usually lighter for most of us, even if we school year round. So, it's the perfect time to grab a book and head to the pool and be inspired!! Check out our Summer Bucket List 14 if you're looking for more ways to add FUN to your summer homeschool!
1. This first book is one that I often share with others as my all-time favorite homeschooling book! Beyond Survival: A Guide to Abundant-Life Homeschooling
 is written by Diana Waring, a veteran homeschooler herself. This book is the perfect amount of inspiration, practical suggestions, book recommendations and shared experiences. I am reading this book as we speak, on our pool days, and I'm remembering why I loved this book so much. It's great to hand to beginning homeschoolers, but I enjoy it still after having homeschooled actively for 6 years now. I come away each time refreshed and recharged. Kind of like a retreat in a book! (well, without the hotel, clean bed, room service and quiet!)
2. While not a homeschooling book specifically,Mitten Strings for God: Reflections for Mothers in a Hurry
 is a wonderful book for any mother to read, but especially the homeschooling mother. I don't know about you, but because I'm with my children all the time and because we see every.little.thing that needs to be done in our homes and in our children, because we are not only teacher but mother, friend, housekeeper, wife, cheerleader, chauffeur, etc….because of ALL THAT, I sometimes need the reminder to cherish these moments. And this book does that for me. When I need to be reminded that this motherhood calling is unique and for this time and this place and this moment, I pull out this book and love my children all over again. 🙂
3. This book is out of print (terrible!!) but I continue to recommend Real Learning: Education in the Heart of the Home
 because it is a wonderful treasure. I first found Elizabeth's readings on her blog, and kept going back and back and back for more. This book describes the atmosphere I want in my home – both in my mothering and in my homeschool. I think a lot of the things Elizabeth discusses in this book resonated in my heart so much, but I had never known how to put them into words. This book is a beautiful treasure of mothering, how things look in her home, practical ideas, book lists and more.
4. If you still have early elementary children that you are schooling, you must read these books!! The Three R's
 were given to me years ago by a veteran homeschooler and when I started reading them I kept saying, "yes! yes! that's how I want to do it!!" These books are tiny and easily read through quickly, but such a great reference to have on hand also. I have 3 little booklets, but you can also get them in 1 book like the amazon link shows. It is the same book. I love Ruth Beechick's no-nonsense approach. I would consider her ideas a "gentle start" in education while focusing on what is most important. If you want to know basic ways to teach your children math, writing and reading, get these books! There are practical step-by-step instructions for what to teach your child at each grade level (K-3) and it is a great guide to go back to time and time again.
5. I recently finished Christian Unschooling
 and loved it. In fact, I have an entire post on that book and our summer of unschooling ideas. Even if you aren't an extreme unschooler, you will be inspired by this book. This book took me back to our homeschool beginnings where I  focused on my kids gifts, their interests and school was FUN. I kept pushing and pushing to make MY agenda fun last year and it didn't go so well. This book gives practical ideas, helps and resources as well as testimonies from many parents with varying definitions and degrees of unschooling.
These are books that inspire me again and again, no matter how many times I have read them. These books get better and better to me. And, honestly, I can use all the inspiration & encouragement I can get when it comes to my job as mom and teacher!!
So, I'd love to hear what books would be on your "must read summer" list for homeschooling moms??