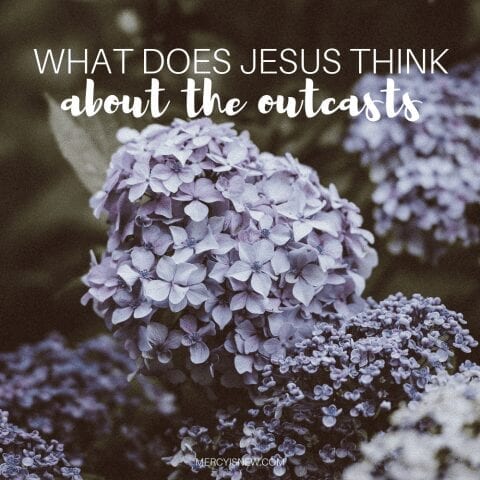 In our small group at church we have been reading through the book of Luke. When we got to this chapter and this particular discussion, my heart started racing with all the implications. So, of course, I come here to wrestle it all out with words.
Read this story from the time of Jesus ministry here on earth with fresh eyes today, friends!
"And it happened when He was in a certain city, that behold, a man who was full of leprosy saw Jesus; and he fell on his face and implored Him, saying, 'Lord, if You are willing, You can make me clean.' Then He put our His hand and touched him saying, 'I am willing; be cleansed. Immediately the leprosy left him." Luke 5:12-14
What do you know about leprosy? You may not know all of the medical jargon or characteristics, but I am willing to bet that regardless of your knowledge you know that lepers became outcasts. In my quick google search, it appears that there were even a few leper colonies left after the year 2,000.
Are lepers the only outcasts in our society today? I can think of many others that are treated as outcasts in our societies still today.
Homeless

Poor

Disabled

Mentally Ill

Anyone with different sexual preferences

Anyone with different religious beliefs

AIDS patients

Convicted felons

Anyone that has ever been in jail

Sex Offenders
Think about your own life. Are there outcasts in your community? In walmart? In church? Gasp! I can tell you, without a doubt, there are outcasts everywhere you go today. As you go about your day today, look around you with fresh eyes…who has the world forgotten? Who can you notice and give a smile to?
So, hear me out. Am I saying that we open our children up to folks who have certain sins in their past? No. I think, though, that often we are so worried or fearful for our own self preservation that we avoid LOVE at all costs.
What Does Jesus Think Of Outcasts?
What did Jesus do for the outcast, the lepers, of His time?
He touched them.
That is so powerful to me, friends. Our church has a ministry for families affected by disability. I love seeing these children and adults loved on. They are being TOUCHED by human hands and with the love of Jesus. Can we not do this for the others on this list as well? There are outcasts everywhere. Notice them. Smile. Speak to them. Offer them hope. Be Jesus to them. Make a difference to even one.
I know there are those that feel it's too hard and too much work to be friends with someone who struggles with depression, or heaven forbid, bipolar or someone with a past.  You know what? So what if we are high maintenance, aren't we the very ones that Jesus came for? Jesus came for the sick, not the healthy. (Mark 2:17.) And friends, if we are deep-down-gut-honest with ourselves, that is all of us. 
The point of this post is not to make anyone feel bad. We have all be there. We have all messed up relationships where we could have been Jesus to someone. I have missed countless opportunities in my own life. I am guilty as well.
But, His mercies are new every morning.
Who can you go out and touch today?
If you would like some practical ideas for helping the refugees in Syria and Iraq, I have a post here full of ideas to go along with the #IAmYourVoice campaign happening now! You CAN do something to help!