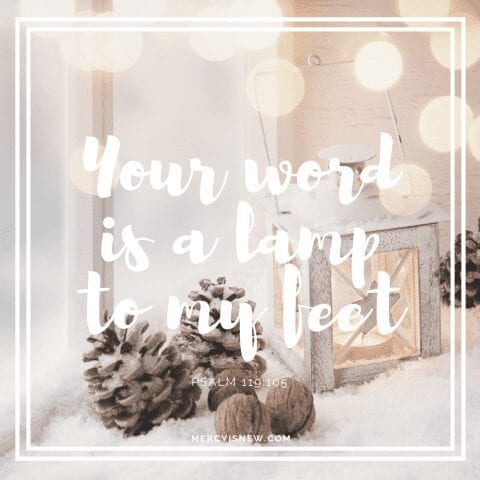 "The soul can do without everything except the word of God, without which none at all of its wants are provided for." Martin Luther
Scripture: Psalm 119:105
"Your Word is a lamp to my feet, and a light to my path."
Considering Light:
In this world, there is darkness all around us. We desperately need LIGHT in our lives. As believers, we have been given a tool with which to snore more of the light, and that is the Word of God. His Word is a lamp for us…it lights our path, it illuminates our steps, it shows us God.
But, sweet friends, if we are not in the Word, how can He use it in our lives to light our paths? If we are not continually going to the source of light, the darkness will creep into our hearts as well. To walk by faith in this fallen world, we must have His Word, which is a lamp unto our feet and a light to our path. Dear ones, He has given us this amazing gift in His Word…but we must open it, read it, study it, memorize it, ponder it, pray it.
Prayer:
God, forgive me for the times I have neglected the gift of Your Word in my life. I am turning back to You and Your word because I know without this in my life I will walk the ways of the world. I need Your light in my life. Lord, Your Word is a lamp to my feet, a light to my path. Help me to use it as such.
To grab your free ebook of these devotions, click here to subscribe.
Find all the posts from this series here (or click on the image below)