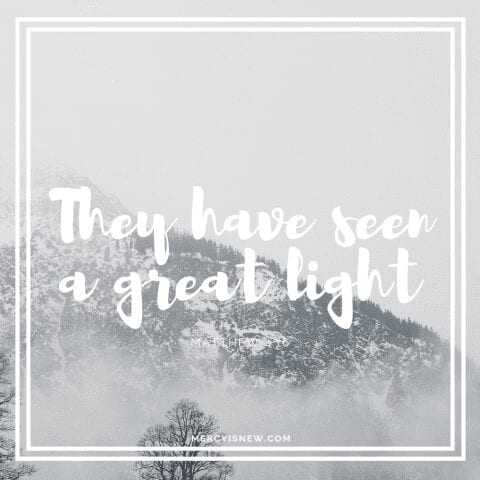 Scripture: Matthew 4:16
"The people who sat in darkness have seen a great light, and upon those who sat in the region and shadow of death Light has dawned."
Considering Light:
This passage is Jesus quoting from Isaiah 9 and fulfilling that prophesy. Don't you just love the Word of God? This phrasing is just a tiny bit different than the Isaiah passage and I think it is equally as powerful and has just as much to tell us.
"…those who sat in the region and shadow of death…"
Have you known anyone to be in the region and shadow of death? What does that look like? According to Jesus, it is darkness. This could be any of us friends, I think particularly of those with cancer in the hospital receiving chemo, tired and worn down…waiting in the shadow of death. I think of those with mental illness whose minds will just not allow them to work the way we want them to…waiting, hopeless, in the shadow of death.
Friends, that is why Jesus came…to shine light on those HOPELESS situations. Yes, we are never hopeless with Jesus. And, that hope? Well, it's not the doctors, it's not the chemo, it's not the magic pills, the hope is Jesus. The hope is forever with Him one day when there will be no cancer, no mental illness and no waiting in the shadow of death. Be encouraged, friends, that day is coming!
Prayer:
Lord, we have all walked in the shadow of death at one point in our lives. We may be there now, we may have just come out or we may be headed in. Help us to know that this world is not our home. You have come to give us hope. We cling to You, Jesus. Light has dawned.
To grab your free ebook of these devotions, click here to subscribe.
Find all the posts from this series here (or click on the image below)