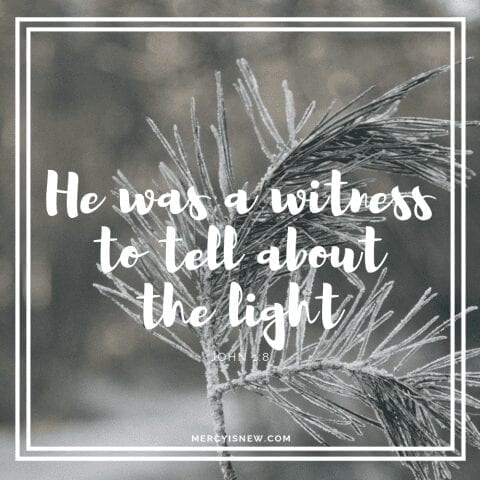 "The cross is the lightning rod of grace that short-circuits God's wrath to Christ so that only the light of His love remains for believers."

A.W. Tozer
Scripture: John 1:8
"He was not that Light but was sent to bear witness of that Light."
Considering Light:
This verse gives us a heart check. We have talked a lot about shining our light to our neighbors and family, but we absolutely must be shining the light of Jesus, not tooting our own horns.
This can be tricky because the Lord has given us gifts! He has made us fearfully and wonderfully in His image. He has given us unique talents to share with the world. And those gifts and talents? They should point to HIM, never to ourselves.
Take a few moments to evaluate your own shining. In your home, in your community, in your church…wherever you may go. Does your attitude reflect His? Does your gifting point to Him? Do your words reflect His Words? We are not that light, we were sent to BEAR WITNESS to That Light. We are here on this earth to reflect Him.
Prayer:
Lord, may we never point to ourselves in a lost and dying world that is desperate for a Savior and not another flawed idol. We are not that light, but we were sent to bear witness to You, our Light. May it be so, Lord.
To grab your free ebook of these devotions, click here to subscribe.
Find all the posts from this series here (or click on the image below)