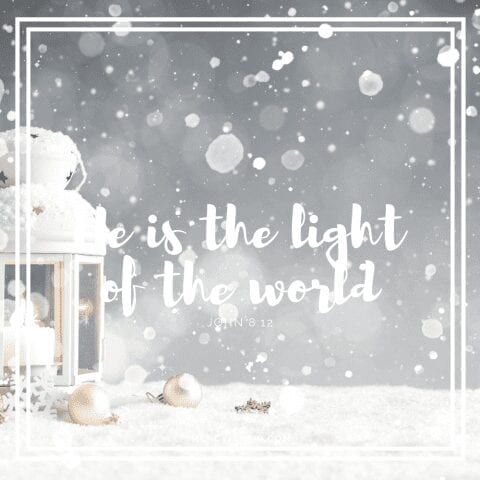 Scripture: John 8:12
"Then Jesus spoke to them again, saying, 'I am the light of the world. He who follows Me shall not walk in darkness, but have the light of life."
Considering Light:
Do you ever look at your own life, your bad habits, your weaknesses, the sin that so easily entangles, and wonder if the light of Christ can truly be in you? Me, too. Yet, I am reminded again and again that the Holy Spirit would NOT be at work in my life if I were not His child. I would not have the conviction of the Holy Spirit, I would not grieve over my sin, I would be callous and indifferent.
Friends, in this world we will have trouble. Sin will plague our lives until we get to heaven. We cannot let that keep us from shining our light to the world. We cannot let that beat us down so that we are no good for the kingdom.
Jesus tells us in this passage that if we follow Him we will not walk in darkness. Walking is a continual motion…we cannot continually walk in sin and not feel conviction from the Holy Spirit if we are His children. If we are His, our sin will grieve us. We can know His love and His correction and His gentle hand guiding us to repent and walk back in the light with Him again.
Prayer:
Lord, if there be any sin in me, examine my heart and bring to light the things that You would rid me of. I trust Your work in my life. I thank You for the gentle prodding and conviction of the Holy Spirit in my life. I thank You that because of Your Son there is now no condemnation in Christ!
To grab your free ebook of these devotions, click here to subscribe.
Find all the posts from this series here (or click on the image below)