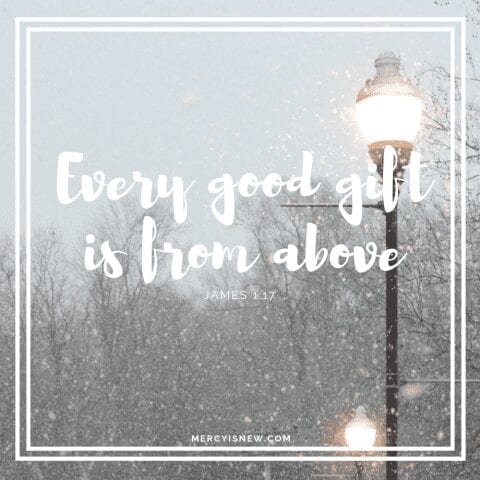 "Imperfection is the prerequisite for grace. Light only gets in through the cracks." Philip Yancey
Scripture: James 1:17
"Every good and perfect gift is from above, and comes down from the Father of lights, with whom there is no variation or shadow of turning."
Considering Light:
At this time of year, it is so easy to picture the blessings and gifts of God's love and the arrival of Your Son and the light He brought to our dark world. At the same time, we know that this season still holds difficult days for many. Every good thing we've experienced is a blessing from You. That said, there are gifts from You that aren't looked upon as good…yet they are still gifts given to make us more like Christ.
No matter where this particular season finds us in our walks with Christ, we can look around – moment by moment – and find many, many things for which to give thanks. Can we praise Him even in the storm? Can we thank Him even in the hard things?
"All is grace." Ann Voskamp
Prayer:
Lord, You are gracious. In your loving kindness, You have given blessings and gifts to us, so much more than we deserve; the gift of Your Son being the best gift of all. Yet, in your graciousness, You have also allowed things that, at times, don't seem like gifts. God, help us to worship You no matter our circumstances. Help us to praise You in the storms of this life. May the trials of this season give us hope for our future in heaven but also remind us of the hope of glory – Christ IN ME.
To grab your free ebook of these devotions, click here to subscribe.
Find all the posts from this series here (or click on the image below)