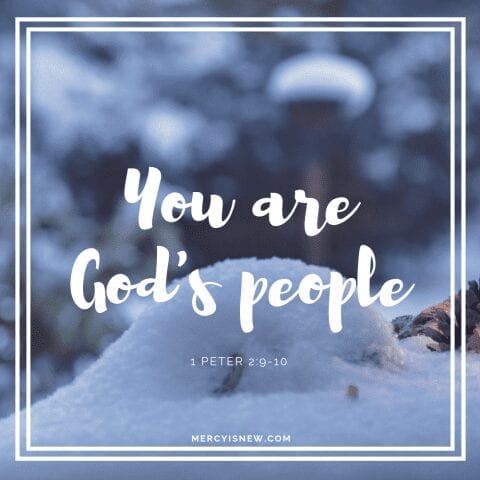 Scripture: 1 Peter 2:9-10
"But you are a chosen generation, a royal priesthood, a holy nation, His own special people, that you may proclaim the praises of Him who called you out of darkness into His marvelous light; who once were not a people but are now the people of God, who had not obtained mercy but now have obtained mercy."
Considering Light:
As God's children, we are the longed for, chosen, much wanted children of our heavenly Father. We are God's special people! Even if you don't feel that today, rest in that truth and find peace in the knowledge that you were chosen by God! And why did He choose us? That we may proclaim the the praise of Him who called us out of darkness!
And when we stop to ponder, just for a few moments, what He called us OUT OF, the grace upon grace just fills our heart. He called us OUT of the darkness, OUT of our sinfulness, OUT of a hopeless future…INTO His marvelous light, INTO a future of hope, INTO the family of God, INTO His mercy. Praise Him for His marvelous light!
Prayer:
God, thank You for making me a part of Your chosen generation, Your royal priesthood, Your holy nation, Your own special people. May I proclaim Your praises for calling me out of darkness and into Your marvelous light. I once was homeless, without a people of my own, a soul with no mercy…but You have changed my today and changed my eternity. Your marvelous light has called me out of darkness. I praise You!
To grab your free ebook of these devotions, click here to subscribe.
Find all the posts from this series here (or click on the image below)