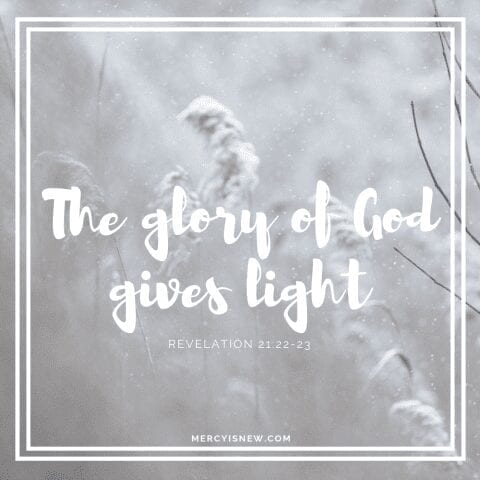 Scripture: Revelation 21:22-23
"But I saw no temple in it, for the Lord God Almighty and the Lamb are its temple. The city had no need of the sun or of the moon to thine in it, for the glory of God illuminated it."
Considering Light:
Can you even imagine a world where no light is needed? Think back to Genesis 1 when God created light. He separated the light from the darkness. He called it good. But, He knew there would be a day – a place – where no light would even be necessary. His glory outshines any source of light, even the source He created for us.
I don't know about you but this is so hard for me to wrap my mind around. I also know that I don't quite have to be able to grasp it. All I know is that one day, someday, I will be with my Lord forever in the home He created for me where there will not be any other source of light other than His glory. Wow.
Prayer:
God, You are awesome! We cannot fathom all of your ways. Your love is amazing. In our heavenly homes there will be no need for light. Your glory will be all the light we need…and it will be more than adequate. Your glory fills the whole earth and one day, Your glory will light up the whole earth. The new earth. Heaven. Our eternal home. I can't wait, Lord. Thank You for giving us places like Revelation where we get glimpses of all You are preparing for us. Thank You for the hope of heaven You have placed in our hearts.
To grab your free ebook of these devotions, click here to subscribe.
Find all the posts from this series here (or click on the image below)