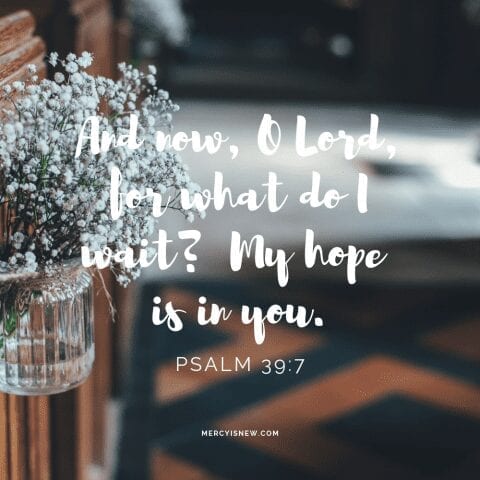 Scripture
"And now, O Lord, for what do I wait? My hope is in you." Psalm 39:7
In the Waiting
What are you waiting for? I remember the first time the Lord gently pricked my heart with the thought that I was waiting on a lot of things, but He wasn't one of them. Talk about paradigm shift.
Waiting on the Lord means we don't have expectations that certain things must happen for us to be happy. Waiting on the Lord means we are at peace, deep in our beings, despite whatever is happening around us. Waiting on the Lord means no more "next thing to come along" that will make our world a better place.
Of course we pray for whatever is on our heart, after all,the Lord knows our heart anyway. But, praying about something and placing our hope in it are 2 different things. We will live in continual disappointment if our hope is placed in something other than Christ.
Place your hope in Christ. Nothing else will satisfy.
Turn your eyes upon Jesus, look full in His wonderful face. And the things of earth will grow strangely dim in the light of His glory and grace.
Prayer
Lord, show me where my hope is placed. Convict my heart if my hope is anywhere but in You. I wait on You, patiently, Lord. Change me, mold me, make me like You. I wait on you, my hope is in You alone.
To print your 31 day schedule click here!