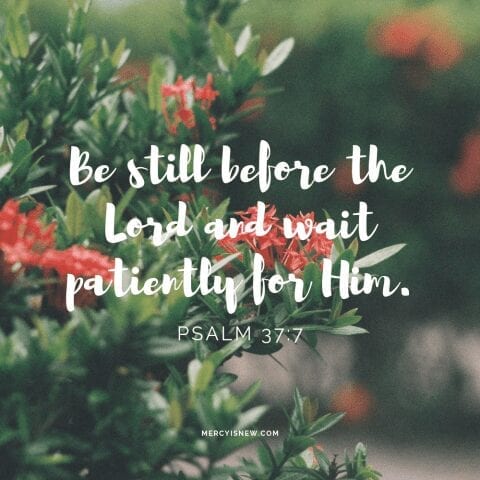 "God never hurries. There are no deadlines against which he must work. Only to know this is to quiet our spirits and relax our nerves." A.W. Tozer
Scripture
"Be still before the Lord and wait patiently for him." Psalm 37:7
In the Waiting
Being still. That's about as hard as waiting. Often the two go hand in hand. If we're in the waiting room, we try not to pace, we try to be still, but it's hard. Waiting on the Lord is no different. Learning to wait on the Lord takes a measure of stillness.
It's ok that it's hard, we are human and the Lord knows our hearts. But, don't give up. Learning to be still will allow you more time in the presence of the Lord. Learning to be still will fill your heart with peace in ways you never knew before.
Being still before the Lord doesn't mean you never leave your house or your prayer closet. Being still before the Lord means your heart completely trusts the heavenly Father and His plans for your life. Being still is being at peace, no matter what your circumstances may tell you.
But sometimes being still does actually mean being still. When is the last time you woke early to just be with the Lord. No checklist. No plans. Just to sit and be with God. In the stillness and quiet of the early morning. God will meet you in your moments of stillness. And it's amazing what He does…He just fills you right up with that elusive peace. We can't find it in the world, often we can't find it in our busy schedules of doing good, but we can find it in the quiet moments where we are being still and waiting on the Lord.
Let yourself be still, dear one. In the stillness, yielded and surrendered to the work of the Holy Spirit, God will do His greatest work yet. He is making you more like Himself.
Prayer
Lord, You know it's hard. But help me to be still before you and wait patiently for You. May I learn to enjoy the stillness of Your presence. May I learn more and more to wait on You and not what You will give or what my day will bring. May I wait on You with praise and thanksgiving because of who You are, not because of what you will do.
To print your 31 day schedule click here!