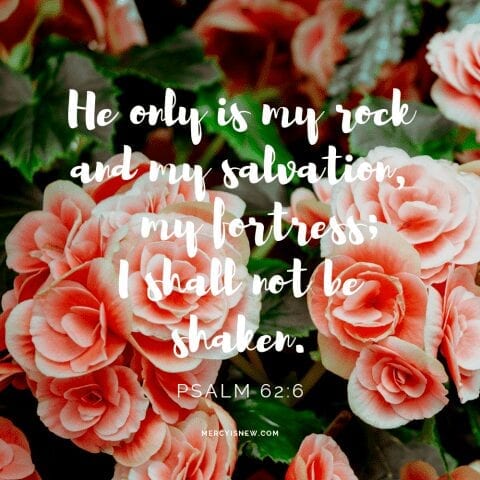 Scripture
"For God alone my soul waits in silence; from him comes my salvation. He alone is my rock and my salvation, my fortress; I shall not be greatly shaken. For God alone, O my soul, wait in silence, for my hope is from him. He only is my rock and my salvation, my fortress; I shall not be shaken." Psalm 62: 1-2, 5-6
In the Waiting
Yet another reminder that God alone is our hope and salvation. Yet another reminder that we must wait on God alone. I struggle with this, I'm sure we all do. It seems we are in a constant state of waiting a lot of times in this life. We are waiting for a new or better job, waiting for another child, waiting on marriage, waiting on a bigger house, waiting til the kids are in school, waiting til the kids are out of school, waiting to get debt paid off, waiting for your spouse to change.  
What are you waiting for today? What if we turned our eyes to Jesus and let the waiting list AND the to-do fade into the background. What if we waited on God by spending our spare time in His Word, reciting His Word, memorizing and praying His Word, rather than worry about the what-ifs and what-nots. What if we spend more time praying and less time worrying today?
Just ponder for a moment how different your life could look if you made waiting on God a priority. What if we waited on God and not something to happen. What if we waited on God and not the prayer we are hoping He will answer. Friends, this isn't to say we don't bring Him our requests. This isn't to say that we never again want things to happen. What this does mean is that our hope is not in those things but in Christ. When we wait on God, we focus on Him and let the things of this world fade from our minds. It's difficult, for sure, but it is so worth it to not be bogged down by the things of this world.
Prayer
God, my soul waits on You alone. This is my prayer asking You to help me to wait on You alone, not that I have it mastered or ever will while on this earth.  I proclaim today that my heart's desire is to wait and hope in You alone! May it be so, Lord. No matter what happens, my faith will not be shaken, because You are still God. My soul waits for You, my hope is from You. you alone are my rock and my salvation, my fortress.
To print your 31 day schedule click here!