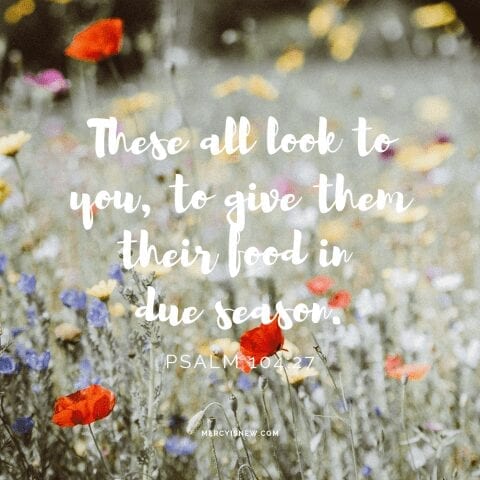 Scripture
"These all look to you, to give them their food in due season. When you give it to them, they gather it up; when you open your hand, they are filled with good things." Psalm 104:27-27
In the Waiting
When we wait on God, we can expect good things. We don't have to worry that the Lord is going to give us something that is bad for us. Does this mean He always answers our prayers with a "yes?" Does this mean that we always have happy lives and nothing bad ever comes our way?
Our gracious heavenly Father just doesn't work that way. In His goodness, He gives us things that He knows are good for us. But sometimes they don't look good to us. And that is the difficult thing. That is why in our learning to wait on Him we are learning to trust. We are learning to place our hope in Him no matter what He brings our way.
We look to Him and He gives us food in due season. What this means is, He gives us what He knows is best when we need it. Sometimes that is a period of waiting. Maybe even a painfully long period of waiting. Sometimes that means even an answer of "no" because He knows it isn't best for us. But, we can trust our loving Heavenly Father. He is good and He fills our lives with good things. Good things that He knows are best.
Prayer
Lord, while I wait on You, grow my trust. I know You are good, but sometimes my humanness needs a reminder. Increase my faith, Lord. May I know and trust deep in my soul that You give me what I need in due season, that what You give is good and that You always have my best interest at heart. Lord, You know better than I do what I need to become more like You and for the world to see You in me. I trust You to finish the good work You have started in me. In due season.
To print your 31 day schedule click here!