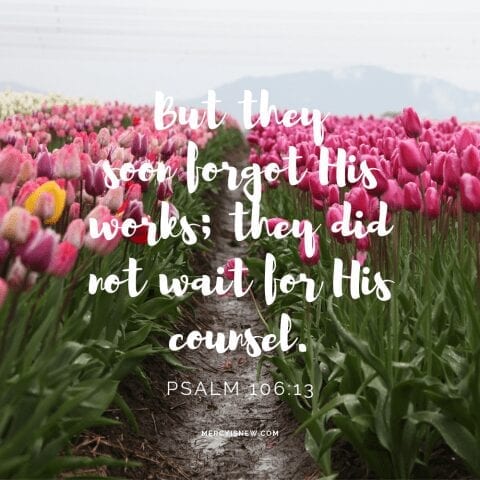 Scripture
"But they soon forgot his works; they did not wait for his counsel. But they had a wanton craving in the wilderness, and put God to the test in the desert; he gave them what they asked, but sent a wasting disease among them." Psalm 106:13-15
In the Waiting
Today's Scripture is more of a warning that we can use as encouragement to wait on the Lord. Waiting is hard. I would even go so far to say that waiting is one of the hardest things most of us will face. Yet, when we rush ahead of the Lord, when we wait on other things rather than the Lord, we are sure to be disappointed. Jesus is the only thing we have in this world that doesn't ever disappoint.
In this passage in Psalms, we see that the Israelites forgot the works of the Lord, and then they didn't wait on His counsel. They had cravings for things other than God.
Have you forgotten the works of the Lord in your own life? Have you forgotten His faithfulness? Have you forgotten His goodness to You? Have you craved things more than you've craved God?
There is no condemnation for you, but there is repentance. The Lord is close to the brokenhearted. Turn to Him today and begin with a heart of gratitude. Confession followed by thankfulness is one sure way to have a right heart before the Lord. Practically speaking, start a gratitude journal, name at least 3 blessings each and every day. Ask the Lord to do a work in Your heart and He will strengthen you as you wait on Him.
Prayer
Lord, may I never forget Your works, may I never rush ahead of You, may I never crave anything but You. Lord, I confess my lack of gratitude and turn to You now in humility and repentance. I'm counting my blessings, naming them one by one…thank You, Lord for…
To print your 31 day schedule click here!