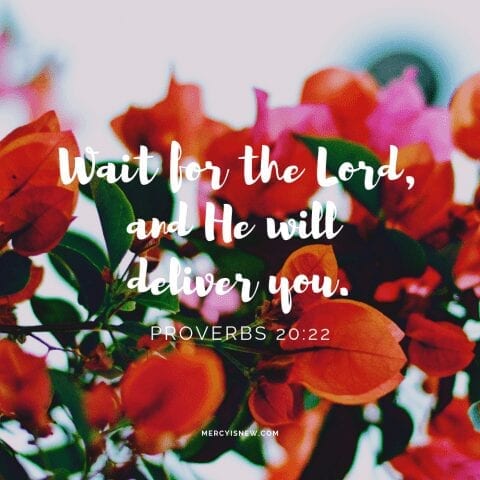 Scripture
"Do not say, 'I will repay evil'; wait for the Lord, and he will deliver you." Proverbs 20:22
In the Waiting
Oh how this verse is one that will show our trust in the Lord as well! This particular verse would be very applicable when dealing with forgiveness. When we can't forgive, our prayer life, our relationship with God, our relationships with others…practically everything about this life we live…is damaged.
"To excuse what can really produce good excuses is not Christian charity; it is only fairness. To be a Christian means to forgive the inexcusable, because God has forgiven the inexcusable in you. This is hard. It is perhaps not so hard to forgive a single injury. But to forgive the incessant provocations of daily life – to keep on forgiving the bossy mother-in-law, the bullying husband, the nagging wife, the selfish daughter, the deceitful son – how can we do it? Only, I think, by remembering where we stand, by meaning our words when we say in our prayers each night, "Forgive us our trespasses as we forgive those who trespass against us." We are offered forgiveness on no other terms. To refuse it means to refuse God's mercy for ourselves. There is no hint of exceptions and God means what He says." C. S. Lewis
As believers we just can't stay in a place of unforgiveness. If we want to move forward with a pure heart, to find true peace, to find forgiveness through Christ for our own sins, we simply must forgive. Easier said that done. It's a process, for sure, but I wholeheartedly recommend praying Scriptures on trust and forgiveness. Read them and pray them daily. Write them, recite them.
Say to the Lord, "I will not repay evil with evil. I will trust You." Repeat. When you pray blessings over the one who has offended you, God will work in your heart and begin to replace the bitterness with forgiveness. I've seen it in my own life and I know He will be faithful to you as well.
Prayer
Lord, help me to forgive. I will not repay evil with evil, I will wait on You in trust and surrender instead. I will submit to your Lordship in my life and not hold on to bitterness by replaying the situation over and over again in my mind. Help me to fix my eyes on You, Jesus, and be reminded of the forgiveness You have shown me. I pray blessings over my offender and I wait, in quietness and trust, on You, my Savior.
To print your 31 day schedule click here!