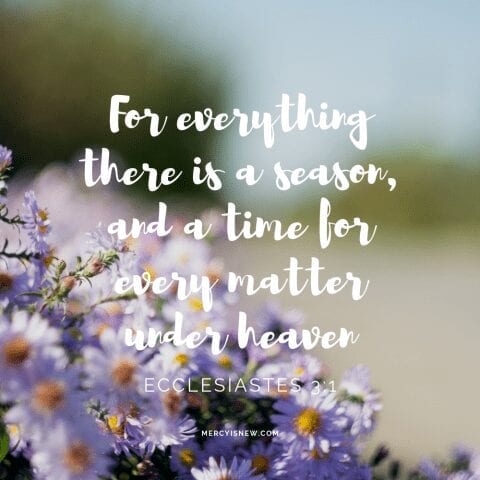 Scripture
"For everything there is a season,
and a time for every matter under heaven:
a time to be born, and a time to die;
a time to plant, and a time to pluck up what is planted;
a time to kill, and a time to heal;
a time to break down, and a time to build up;
a time to weep, and a time to laugh;
a time to mourn, and a time to dance;
a time to cast away stones, and a time to gather stones together;
a time to embrace, and a time to refrain from embracing;
a time to seek, and a time to lose;
a time to keep, and a time to cast away;
a time to tear, and a time to sew;
a time to keep silence, and a time to speak;
a time to love, and a time to hate;
a time for war, and a time for peace."
Ecclesiastes 3:1-8
In the Waiting
Do you really believe the Word of God is true? Do you believe that the very breath of God inspired these words? Do you trust Him completely?
What I am finding in my own life is that we are always in periods of waiting. I didn't think I would find myself waiting so much after certain stages of life – marriage, children, etc. You know the mindset, "Oh, after I have kids I'll be content…" I'm pretty sure I am not alone in this sentiment, but my marriage, my children, my work, none of that has brought contentment to my heart. None of those things have filled me with peace.
So, when I realize my heart is restless for more, I take that as a whisper from the Lord that I need to seek Him first above all else. He has ordained all the days of my life, He has ordained a time to be born and a time to die, a time to break down and a time to build up, a time to weep and a time to laugh. He has the whole world in His hands, friends. That includes you and your restless heart, dear one.
Prayer
Oh God, help me to trust Your timing for my life. Help me to trust You when You give and when You take away. Blessed be Your Name, Lord.
To print your 31 day schedule click here!