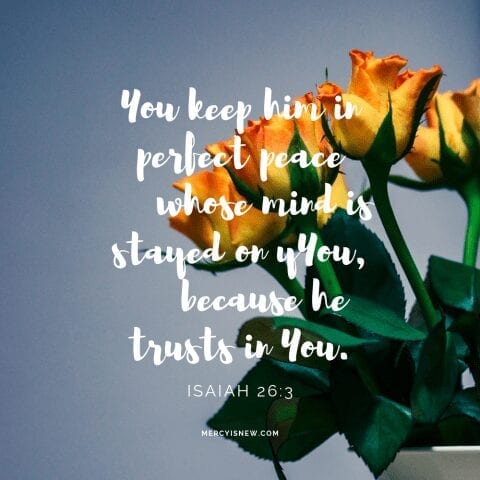 Scripture
"You keep him in perfect peace whose mind is stayed on you, because he trusts in you. In the path of your judgments, O Lord, we wait for you; your name and remembrance are the desire of our soul." Isaiah 26:3, 8
In the Waiting
When we fix our eyes on Him, He fills us with peace. When we spend time in prayer, He replaces the anxiety with peace.
 "Do not be anxious about anything, but in everything by prayer and supplication with thanksgiving let your requests be made known to God.  And the peace of God, which surpasses all understanding, will guard your hearts and your minds in Christ Jesus." Philippians 4:6-7
This passage tells us, point blank, not to be anxious about anything, but that when we bring everything to God in prayer and supplication the peace of God will guard our hearts and minds! Hallelujah and amen! I know I have seen this truth in my life time and time again.
It doesn't take much for my focus to get off. It only takes a second for my thoughts to be turned to something that doesn't matter, for frustration to set in, for bitterness to take root. That is why it is so vital that we are in God's Word regularly, that we pray without ceasing, that we memorize God's Word so that when the negative thoughts do begin we can fight them with God's Word.
Prayer
Lord, You have promised to keep me in perfect peace when my mind is stayed on You. Oh Lord, I need Your help to fix my eyes on You. When the world creeps in, help me to turn my eyes and thoughts to You. O Lord, I wait for You, Your name and remembrance are the desire of my soul!
To print your 31 day schedule click here!