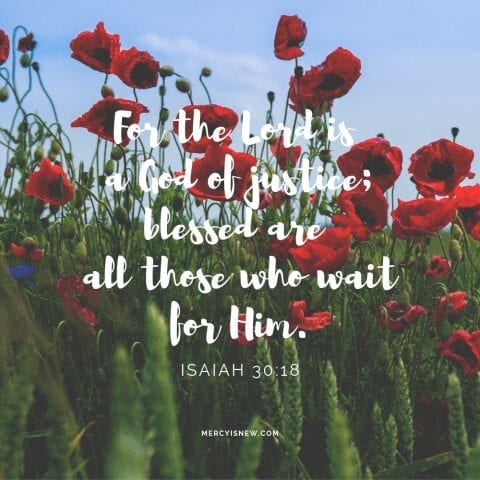 Scripture
"Therefore the Lord waits to be gracious to you, and therefore he exalts himself to show mercy to you. For the Lord is a God of justice; blessed are all those who wait for him." Isaiah 30:18
In the Waiting
After a period in Scripture where the Israelites are described as a rebellious people, we are immediately comforted with the passage from Isaiah 30:18. We rebel, we fight God, we try to find contentment in things other than Christ, we seek other things above Him…yet, the Lord waits to be gracious to us, He exalts Himself to show mercy to me.
Just take that in for a moment. Let that truth wash over you and cleanse your heart. He waits to be gracious to you. To you, dear one. He waits to be gracious to you, rebellious one.
The next time you find your heart in a place of unrest, when you begin to realize that you've been seeking things first other than God, when your soul isn't content…read this verse. Pray this verse. Let the Lord comfort you through His Word…He is waiting to be gracious to you.
Prayer
Oh Lord, forgive my unfaithful heart. Even when I rebel against You, even the small rebellions of pride and distrust in Your plan, those aren't small, they have huge effects on my heart. God, forgive me when I run other places for comfort and strength. Lord, you wait to be gracious to me and this fills my heart with peace, contentment and joy. Gratitude spills over when I think of you, the Lord of the universe, waiting to be gracious to me. You are a God of justice and we are blessed when we wait on You.
To print your 31 day schedule click here!