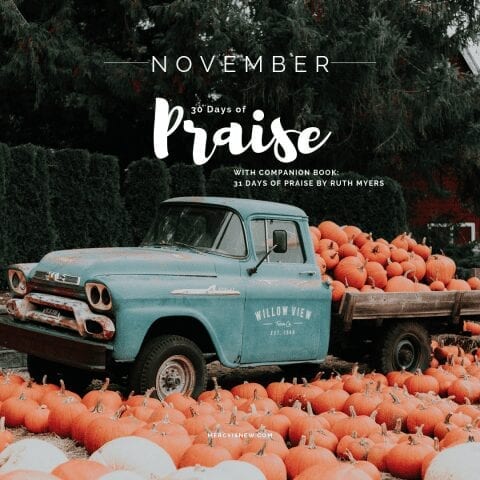 "Praise is a basic way both to express our faith and to strengthen it; and strengthened faith is no small benefit." – Ruth Myers
Gratitude and praise are not magical. But they have the power to be hugely transformational and have a great impact on our minds and hearts. When we change our focus from complaining and so much of ourselves and fix our thoughts on Christ, on His Goodness and on praising Him…our entire life can be transformed as we change our thoughts.
Join me in November as we spend the month in GRATITUDE and PRAISE using the book 31 Days of Praise by Ruth Myers. I have loved this book for years and thought it would be fun to do this with you all!
There will NOT be a daily post here on the blog. You will find nearly-daily thoughts & verses shared in my Instastories on my Instagram account.
Print or Save the Daily Verse for November
Click to download or save it to your phone!