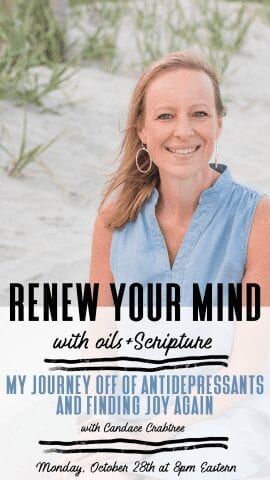 I have found oils + Scripture to be a POWERFUL combination when working on my mindset, changing my thoughts and having healthy emotions.
You're invited to an online class that I will be teaching! (It is open to the public, feel free to invite anyone that may be blessed by this!)
Let's come together online and chat about how oils + Scripture + gratitude have been helping me to RENEW my MIND.
Is my life perfect? No. Do I still have bad days? Yes.
But I now have healthy tools and am learning healthy ways to handle my emotions.
I hope you will join me as I share my story of coming off anti-depressants, finding oils and how they help with my emotions, learning to DECLARE TRUTH and the impact that has on our minds and the transforming power of gratitude.
I will also be sharing the different ways I PRACTICALLY use oils paired with Scripture for my emotions and mindset! All of this info will be included in a PDF that you will receive also. 
**I will record this class and share the link with you soon! 
How this class will work: Click HERE to join the FACEBOOK EVENT. But the class will NOT take place on facebook because I know many you aren't on facebook. The facebook event is just for those that ARE on facebook to make it easier to me to share the event with you. On October 28th I will share a LINK to Zoom here on my blog, on Instagram and in the facebook event where you can click at 8pm Eastern to JOIN the class. You will need to download the Zoom application if you've never used it before but it's a way for us to meet online outside of Facebook. (Go to Zoom and sign up before the 28th.)
P.S. I've already had several say they don't want to do Zoom. LOL!! Whatever format I choose it seems I can' win. If enough people have trouble with Zoom I may just do a facebook live video, then put it on youtube so I can share the link with everyone that way! I will let y'all know what I decide.