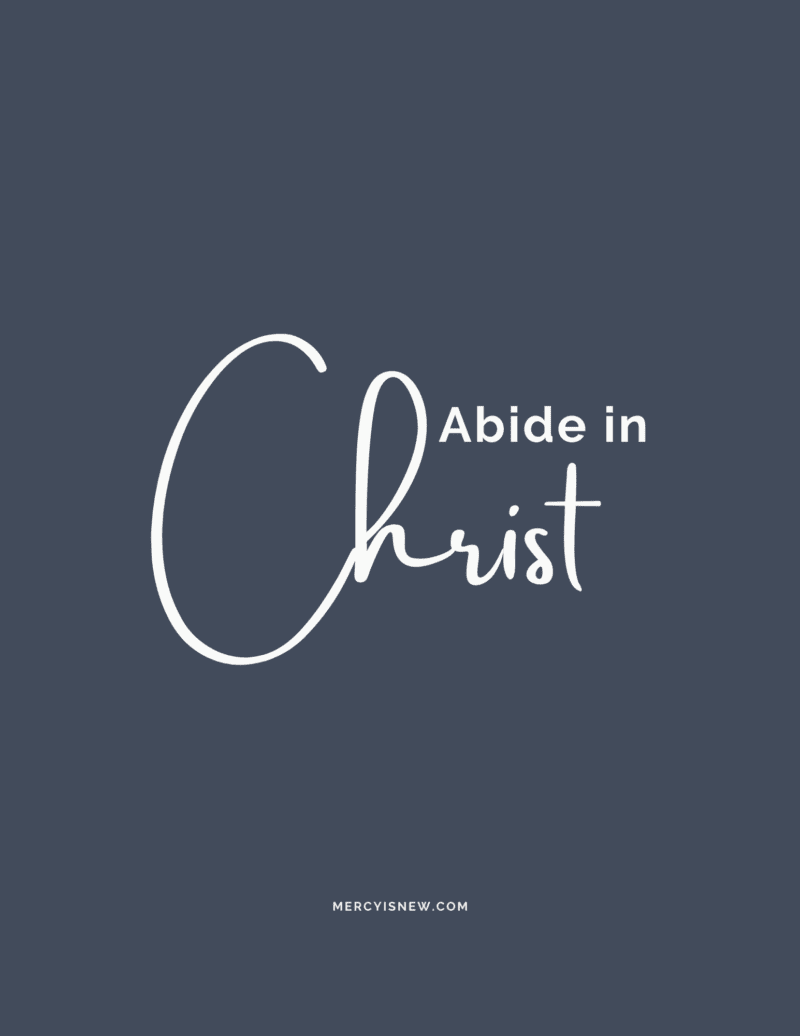 "I am the true vine, and my Father is the gardener. He cuts off every branch in me that bears no fruit, while every branch that does bear fruit he prunes so that it will be even more fruitful.  You are already clean because of the word I have spoken to you. Remain in me, as I also remain in you. No branch can bear fruit by itself; it must remain in the vine. Neither can you bear fruit unless you remain in me. I am the vine; you are the branches. If you remain in me and I in you, you will bear much fruit; apart from me you can do nothing." John 15:1-5
This chapter has long been one of my favorite chapters in the Bible. One year I chose Abide as my word of the year and it was so meaningful.
You probably also know that I love Andrew Murray. We have read his book Waiting On God before together and now it's time for another of his classics, Abide in Christ.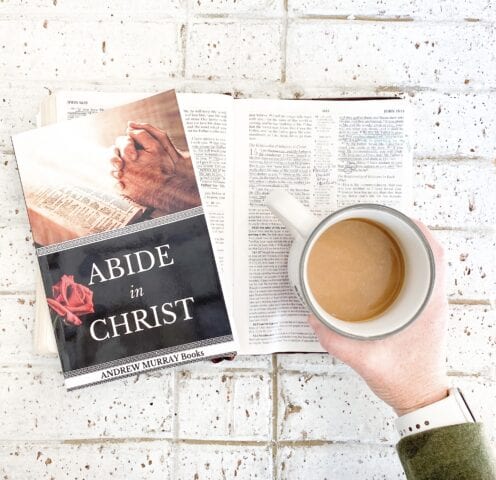 "Dear souls! How little they know that the abiding in Christ is just meant for the weak, and so beautifully suited to their feebleness. It is not the doing of some great thing and does not demand that we first lead a very holy and devoted life. No, it is simply weakness entrusting itself to a Mighty One to be kept – the unfaithful one casting self on One who is altogether trustworthy and true." Andrew Murray from Abide in Christ
Join me in January as we read Abide in Christ by Andrew Murray and John 15 as well. You don't have to have the book! You could choose to read/write the daily verse as well as dig into John 15 and that would be plenty!
Join me each morning on my Instagram stories (the little profile circles at the top of your Instagram feed – click on mine! I also save each day's reading on the highlights on my IG account. Click on my profile and those little pink circles are highlights. You can find all my old studies there!) Also the daily verse will be posted each day on my FB account.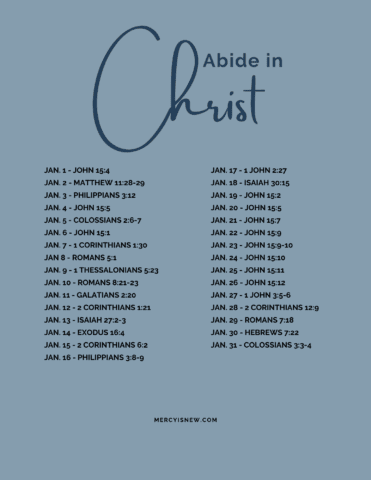 "…when He says, 'Abide in Me,' He offers Himself…" Andrew Murray
In my humble opinion, to ABIDE in Christ we must be in His Word. This doesn't mean we don't make prayer & communion with God a priority. But when we read and study God's Word that is how we KNOW HIM MORE.
Optional additions to this study:
Write the daily verse in a journal/notebook each day.
Write the daily verse on an index card and carry it with you each day.
Memorize John 15 or the first portion of it.
Listen to John 15 on the Audio Bible app (or other such resource) each day in January.
Read John 15 each day in January.
Write out John 15.