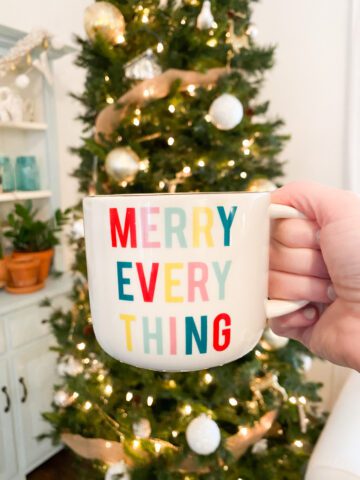 I grabbed this mug today and my first thought was "gosh this mug is a lie. Everything is not merry." #enneagram4 😂 Then I immediately went on to beat myself up. "Why are you always such a Debbie downer??"
In that moment I preached the gospel to my own heart. Everything is NOT merry and bright. THAT IS WHY HE CAME.
He came for your grief. He came for your broken relationships. He came for your loss. He came for your sin. He came for your prodigal child. He came for your sadness.
Emmanuel: God with us. He came for us. In the mess. To be here in it all WITH US. Psalm 34 tells us that He is near to the broken-hearted.
So when you don't feel holly jolly this Christmas season, look up. In this world you will have trouble, but TAKE HEART! He has already overcome and one day He will wipe every year from our eyes and our joy will be COMPLETE.
Until then, look up. Remind yourself that He is here in the mess of it all with you. And CELEBRATE – even through years – that He came for you and me, the broken, the sick, the hopeless, the sinner.
And when you look up and fix your eyes on Jesus, you are reminded of our TRUE hope. It's not in the perfect holiday decor or the perfect family gathering. It's Jesus. Only Jesus.
On Christ the solid rock I stand, all other ground is sinking sand, all other ground is sinking sand.
FOR MORE ENCOURAGEMENT
Read & meditate on these verses